Kim Morgan's art has turned bloody.
But not gory, viscous and splattered bloody. The NSCAD professor and installation artist has been looking at blood through an electron microscope, amazed to see that blood cells are as unique as the person they come from and intrigued by what they reveal at a microscopic level.
Her most recent artwork in the Blood Work series has been just installed. Comprised of images of blood cells magnified 5,000 to 10,000 times and mounted on Plexiglas, the work occupies a long hallway—"an artery" if you will—linking Dalhousie University's Sir Charles Tupper Medical Building and the newly opened Collaborative Health Education Building (CHEB).
More than 24 metres in length, the large work makes an impact both on an intimate level and from far away, viewed through windows facing University Avenue. Its creation was encouraged through the support of Dr. David Anderson, Dean of Medicine at Dalhousie, and, significantly, a hematologist (a specialist in the science of blood, blood-forming organs and blood diseases).
He's enthusiastic about the artwork, which he calls "visually stunning" as well as "deeply meaningful."
"She presents blood as the essential ingredient of life," he says. "(The artwork) will resonate with the people in the health professions who travel through this way."
The installation was commissioned in collaboration by the University Library, the Dalhousie Art Gallery and the Faculties of Dentistry, Health Professions and Medicine.
"This is the kind of precedent I've been hoping for," says Peter Dykhuis, director/curator of Dalhousie Arty Gallery. He notes funding for the artwork was set aside through the new building's budget. "I'd like to see art in public places that is relevant and site specific, providing something meaningful besides just being décor."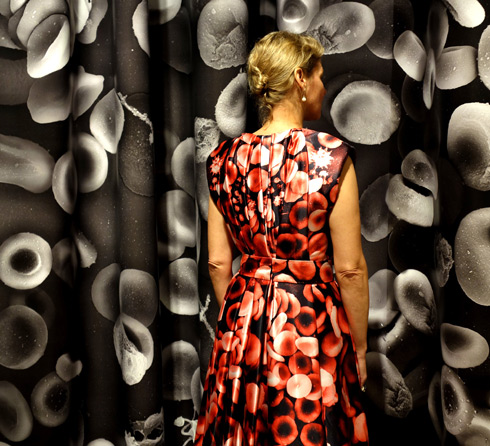 For the artist, the images are as individual and distinctive as the 16 people who contributed blood samples: friends, family members, colleagues at NSCAD, and Dalhousie medical students. For Prof. Morgan, they're like portraits.
Her fascination with blood goes back to 2014—a time when she was spending a lot of time in hospitals while her mother was ill with cancer and undergoing several transfusions. At the same time, she was embarking on an artistic residency at Dalhousie Medical School.
"I found I was curious, not only with blood as a material, but with all its meanings—political, medical, economic, religious," she says.
Besides the hallway installation at Dalhousie, some of the other artworks in Prof. Morgan's Blood Work series include a self portrait made of a digital image of her blood cells scanned through an electron microscope, a glowing red chandelier comprised of test tubes, slides, and images of blood, and small scale, cast-iron sculptures of red blood cells. For the next two months, Prof. Morgan will be continuing her artistic investigations of blood while at Artpace, San Antonio, Texas. The plan is to create a "breathing blood wall" of fabric "that will move in and out like breath."