The curtain was lifted on NSCAD Lithography Workshop – Contemporary Editions tonight, November 7, offering an exclusive look at eight prints designed by esteemed Canadian artists during a reception at NSCAD University.
Artists, students, staff, faculty and other members of the local arts scene were on hand to witness the unveiling of the new works, which were created in collaboration with master printer, Jill Graham. By all accounts, NSCAD Lithography Workshop – Contemporary Editions was a rousing success.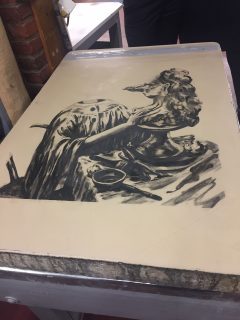 "It's been an exciting night. The anticipation of showing these new lithographs to the public was colossal, and it was amazing to see so many people connect and come together to celebrate this project," said Dr. Aoife Mac Namara, president, NSCAD University. "We want to build upon the lasting legacy of the original NSCAD Lithography Workshop, and judging by the reaction of our guests tonight, I think we are well on our way to doing that."
The NSCAD University Lithography Workshop was established in 1969, earning international recognition and redefining the artistic potential of print in the 20th century. It had a significant and lasting impact on the world of art and design, and included several famed artists from Canada and around the world. Tonight's event marks the official revival of the workshop, and the work on display was representative of the new, diverse direction the project will take moving forward.
NSCAD students and recent alumni were able to take part in the lithography workshop through studio visits with the artists while they were on campus. In addition, students were hired as assistants in the studio and were commissioned to write essays on the works, which will be published online at litho.nscad.ca.
"It has always been a priority for the Anna Leonowens and NSCAD that students have direct contact, and an opportunity to work along-side professional artists, gaining hands-on experience and witnessing different approaches to art making. I'm thrilled that we've been able to revive this workshop and continue this legacy. From the inception of this journey it was important to us that the participating artists were from diverse backgrounds, to have a more inclusive workshop than before. We're honoured to bring these artists' impressions to this project," said Melanie Colosimo, Director/Curator, NSCAD's Anna Leonowens Gallery Systems. "Challenging each artist beyond their comfort zone sparked their creativity. Paring conceptual artists with a master printer, who is an expert in making prints, was a brilliant partnership."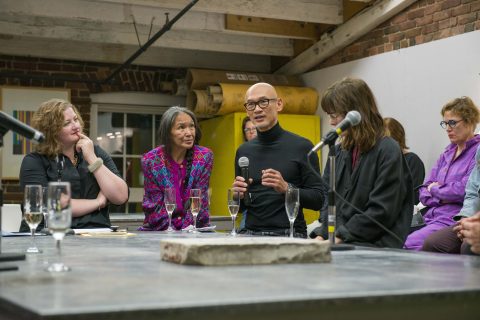 Artists Shuvinai Ashoona, Jordan Bennett, Shary Boyle, Brendan Fernandes, Amy Malbeuf, Ed Pien, Derek Sullivan, and Ericka Walker are the eight whose work was on display tonight. The limited-edition prints were available for purchase throughout the evening, with proceeds from sales being invested in collaborative printing and the NSCAD press, helping to revive publishing at the Halifax-based art and design school.
In addition to the unveiling of the prints, tonight's attendees were also treated to an artist roundtable discussion, and a question-and-answer session with the artists themselves. This provided guests with an opportunity to learn more about NSCAD Lithography Workshop – Contemporary Editions and its significance on the world of art.
All eight lithographs will be on view at the Art Gallery of Nova Scotia, 1723 Hollis Street, Halifax, from November 9 to April 26, 2020. The new prints will be available for purchase at litho.nscad.ca.