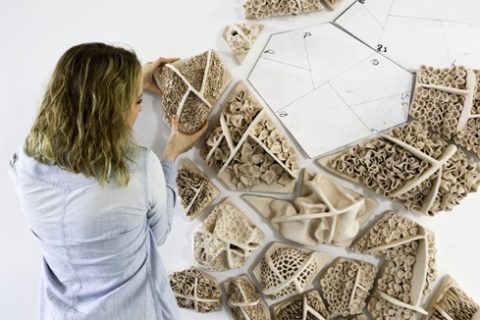 Lunenburg in the winter is quiet, but not inside the former fire hall, which for the past 10 years has been the home of the NSCAD-Lunenburg Community Studio Residency. It's a time of artistic ferment, as the three residents take advantage of the beautiful historic setting and their spacious shared studio to create.
The three recent NSCAD grads are working towards a group show, Arts Ecology, at NSCAD's Port Loggia Gallery. The exhibition, running March 4 to 13th, comes at the midway point through their residency. The opening reception takes place Thursday, March 3, 5:30 to 7 pm.
Arts Ecology will include work by the three Lunenburg residents, Lux Habrich, Marley Johnson, and Julie Wagner, as well as Sarah MacLeod at the Cape Breton Centre for Craft & Design in Sydney and Caitlin McGuire and Kelsey Pearson at the MacPhee Centre for Creative Learning in Dartmouth.
Marley, from London, Ont., is the curator for the show, which he entitled Arts Ecology as a way of exploring the relationships between artists with the community. "At the heart of it is a question: how do you build an artistic practice that is true to yourself and yet relates to the world around you?"
In some ways, being an artist-in-residence with one of the NSCAD Residency sites is a "perfect experience," according to Julie, but in other ways it's tough. You have to motivate yourself to create when there are no longer the deadlines provided by professors or the competition and/or support provided by classmates.
"You have to learn independence. You have to motivate yourself and push yourself every day. There's no structure, except for what you impose on yourself, and that's an adjustment," says Julie, a ceramic artist who is considering grad school.
And then there's the need to find ways to support yourself. Residents often take on part-time jobs in the communities they're living in, in addition to doing the volunteer work that's expected of them as part of a community residency. Marley has found finding part-time work in the area difficult, while Lux, on the other hand, has three art-related part-time gigs that mean it's harder for her to get the studio time she craves.At the MacPhee Centre in Dartmouth, Caitlin and Kelsey are wrestling with the same issues, but mostly feel "really, really lucky," says Caitlin. The two get along famously, have found part-time jobs that complement their artistic practices, and love working with youth at the MacPhee Centre.
Caitlin is a painter and illustrator originally from Antigonish who works as a gallery assistant at Argyle Fine Art, while Kelsey is a printmaker from Napanee, Ont. who has been teaching classes through NSCAD's School of Extended Studies.
At the MacPhee Centre, they have 24-hour access to a third floor studio loft with a view of Halifax Harbour.  Caitlin is teaching "The Comic Diaries" this winter, while Kelsey is teaching "Book Making and Wood Carving."
"This place gives me focus," says Kelsey.
Adds Caitlin: "I'm grateful every time I walk in the door."
The sentiment is mutual from the folks at the MacPhee Centre. "They are making a big impact on our youth, and not only by working with them," says Heather MacDonald, executive director of the centre which is located in downtown Dartmouth. "The kids see their art and they ask about it. It helps them to consider art as a career, not just as a hobby. We're just very thankful to have them here."