NSCAD University is pleased to host Mark Dion as a guest lecturer on Tuesday, March 10, 2020 at the Halifax Central Library.
Dion is an American conceptual artist best known for his use of scientific presentations in his work. His art examines the ways in which dominant ideologies and public institutions shape our understanding of history, knowledge, and the natural world.
"Mark is exactly the type of artist we want students learning from. His work goes against the grain of dominant culture, challenges perception and defies convention," said Melanie Colosimo, Director of NSCAD's Anna Leonowens Gallery. "He's created such a wide range of art – everything from architecture projects to print interventions in newspapers. We're thrilled to have Mark at NSCAD and feel quite fortunate to have him lecture here. This is a lecture that we can all benefit from."
Originally from New Bedford, Massachusetts, Dion has earned an international reputation over the past two decades.
He has studied at the Hartford Art School (BFA in 1986, honourary doctorate in 2002), before attending the School of Visual Arts in New York and the prestigious Whitney Museum of American Art's Independent Study Program. He is an Honorary Fellow of Falmouth University in the UK (2014), and has an Honorary Doctor of Humane Letters (Ph.D.) from The Wagner Free Institute of Science in Philadelphia (2015).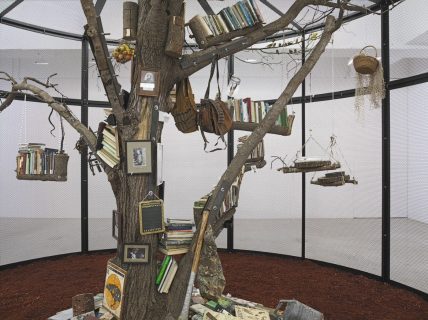 Dion and his work are the subject of a book produced by Phaidon publishing, as well as a documentary on the PBS series art:21. He also frequently collaborates with museums of natural history, aquariums, zoos and other institutions mandated to produce public knowledge on the topic of nature.
"His artwork tracks and questions contemporary society, pseudo-science, social agendas and ideology," added Colosimo. "Mark examines how these things make their way into public discourse."
Dion has received numerous awards throughout his career, including the ninth annual Larry Aldrich Foundation Award (2001), the Joan Mitchell Foundation Award (2007) and the Smithsonian American Art Museum's Lucida Art Award (2008). He was also a Guggenheim Fellowship recipient in 2019 and has had major exhibitions at the Miami Art Museum, New York Museum of Modern Art, and the Aldrich Museum of Contemporary Art.
Dion's public lecture on Tuesday, March 10 takes place at the Halifax Central Library, O'Regan Hall, 5440 Spring Garden Road, Halifax, NS. The lecture starts at 6 p.m., is open to the public and admission is free.
This event will feature ASL interpreting. The venue is wheelchair accessible.
For more information on upcoming public lectures, artist talks and other events at NSCAD University, visit nscad.ca.