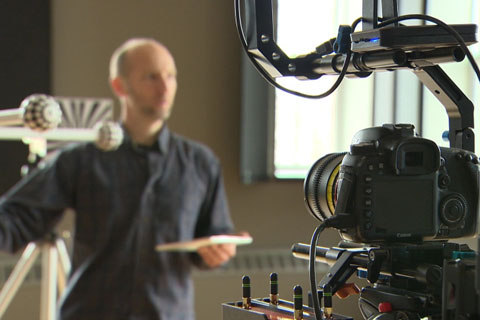 An ancient Greek philosopher is helping NSCAD University film professor Sam Fisher with a contemporary problem.
The problem is focus pulling in the film industry. With cameras becoming increasingly mobile, and films being shot with lower light, there is still no auto focus system that is fast and reliable enough to result in an actor being in precise focus as they move within the frame.
So Prof. Fisher turned to Pythagoras for advice, using his distance equation—remember the Pythagorean theorem from your high school math class? —to seamlessly calculate and recalculate the distance between the subject in motion and the camera.
"We've been able to develop a system that uses motion capture technology to get the exact position of the camera and the actors in real time," says Prof. Fisher.
Called Andra, his motion focus invention relies on portable sensors to constantly feed information to a focus motor on the camera, keeping the subject clear and in focus. The system is adjusted and controlled with an iPad.
Support from NSCAD and the federally funded research network GRAND has assisted in the development of Andra. It was developed and tested in Prof. Fisher's studio in NSCAD's Academy Building, home to the university's film program and Cineflux: A Centre for Interdisciplinary Research in Emerging Cinema and Media Arts.
Recently, he debuted his invention at the NAB show in Las Vegas; NAB, produced by the National Association of Broadcasters, is the world's largest electronic media show covering filmed entertainment, and the development, management and delivery of content across all mediums. Not only did he get a positive reception from industry heavyweights at NAB, Andra was named best in show. According to a review of the show, Andra was deemed "the closest thing to a game-changer in the trenches of production."
Game-changer? That's exactly the feedback Prof. Fisher was looking for to move forward. He came away with a stack of business cards and a conviction that he's on the right path. The next step is to lend out the unit to be used in the field, gather feedback and refine it further.
He's now hoping it will be ready for market by November. "The last two years have been very intensive," he says, "but it has to be perfect."
For more info, please see:
Andra website
Andra on Facebook
Global Halifax – "Halifax startup focused on revolutionizing film industry"