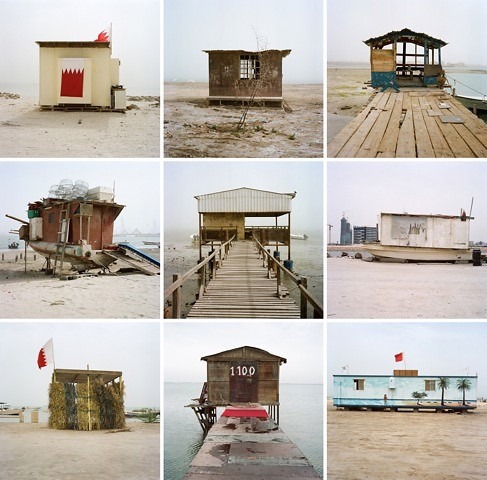 Camille Zakharia, BFA '97, and his team of colleagues from the Kingdom of Bahrain  recently won the coveted "Golden Lion" for best national participation at the Venice Biennale for Architecture 2010.
The project, entitled "Reclaim," was an investigation of the decline of sea culture in the Island and comprised original three fisherman's huts, built along the waterfront.  As described in the exhibition statement:
"Three fishermen's huts disrupted from their original sites in Bahrain form the focal point of the exhibition. The awkwardness of their situation, disconnected from their coastal scenery, speaks of the discomfort of our current relation with the sea. In line with the theme of this year's Biennale, it offers the visitors the chance to experience rather than observe architecture and through a series of interviews allows them to meet with the many anonymous architects as they speak about their relation to the sea."
For his part of the project, Zakharia, a photographer now based in Bahrain, conducted a photographic documentation of the varied and changing coastal areas of the Kingdom, entitled "Coastal Promenade."
In the opinion of the international panel of judges for the Biennele, "Given the range of vast urban developments that Kingdom of Bahrain could have been tempted to include in this Exhibition, the jury was impressed by the choice, instead, of a lucid and forceful self-analysis of the nation's relationship with its rapidly changing coastline."
"Reclaim" represents the Kingdom of Bahrain's first-ever entry into the Biennele.