Animation Festival of Halifax launches new look, new website and all-new programming for 2018, and joins with NSCAD in their Artist for  Day program
The Animation Festival of Halifax (AFX) launched its 2018 program, along with a new name, a new look, a new website and a limited-run podcast called Crazy Fish. Check out anifx.ca for details.
Formerly known as Animation with Love, this seventh iteration of the Festival offers a terrific lineup for 2018, including great programming. Artistic Director, Siloën Daley, notes "This year, there is truly something for everyone, from independent short films, to Saturday Morning Cartoons, to professional workshops and panels. We've had incredible support from all of Nova Scotia's animation studios, several in-kind contributors and the independent community—and it shows!"
On Thursday, May 10, the Festival kicks off at 5:30 p.m. with a pre-screening reception with special guests and DJ James Reid. The opening screening features the 19th Annual ANIMATION SHOW OF SHOWS, always popular with animators and aficionados alike. Acme Filmworks founder and Show of Shows producer-curator Ron Diamond is coming from Los Angeles to participate in a Q&A after the screening. The kickoff evening will close out with a screening of the award-winning (Ottawa Animation Festival, 41st Japan Academy Prize Awards) Masaaki Yuasa's NIGHT IS SHORT, WALK ON GIRL, a comedy anime feature set in Kyoto.
Friday, May 11, is a day packed with workshops and pitching opportunities for beginners to professionals. AFX is collaborating with Wonder'Neath Studio to offer Dots & Loops: a hands-on animation open studio workshop from 2-4:30 p.m. and 5-7 p.m. Drop in to participate in this all-ages, all-skill-levels event led by North End Halifax artists Becka Barker and Jessica Winton, whether you've tried animation before or not.
Or, if you're an aspiring animator attending college or a senior high-school course, Dylan Edwards from Copernicus Studios is leading a pitch development workshop from 10 a.m. to 2:30 p.m. You'll have the opportunity to write and practice your pitches for that animation project you've been wanting to develop. The workshop is free but there is limited space, so RSVPs are required: see the AFX website for more information.
If you don't have time for a drop-in or a workshop during the day, but you're an emerging professional with a five-minute project pitch, come for the meet-and-greet with industry professionals from 3:30-5 p.m. A panel of local and national industry players will hear student pitches from the workshop earlier
that day, and pitches from professionals in the field—possibly including yours! See the AFX website for signup details. The event is open to the public.
Ever wanted to know what it takes to make an Oscar-worthy animation? Professionals or animation fans alike can join Ron Diamond at his behind-the-scenes Think Oscar! Master Class and screening that evening, from 6-9 p.m. at the Museum. And stay for the feature screening at 9:30 p.m. From the brilliant and slightly twisted mind of writer-director Chang Hyung-yun, SATELLITE GIRL AND MILK COW is a heartfelt & wildly entertaining commentary on the possibility for human connection in our post-modern world.
On Saturday, May 12, the jam-packed family day starts at 9:30 a.m. with Saturday Morning Cartoons at the Central Library, in partnership with Mini Con. If you have a little one who loves some of our Hali-made, internationally broadcast cartoons, keep your pjs on, bring your pillow and come for some cereal and serious cartoon overload with a couple hundred of your newest friends, hosted by John Davie. Then make your way to the Natural History Museum to see the family-friendly BIG BAD FOX AND OTHER TALES at noon. From the creators of the Academy Award®- nominated Ernest & Celestine comes another hilarious, heartwarming tale of animal misfits destined to become a classic, with pacing and visual spontaneity that harkens back to classic Looney Tunes shorts and slapstick two-reelers. The feature is in French, and subtitled in English, and even if you don't like to read subtitles, you'll be able to follow along easily.
If you're already an animator or artist, or aspire to be one, you can try your (drawing) hand at something truly original. Bring your drawing materials to Animation Circus, a collaboration organized by artist Jenna Marks with Women in Film and Television-Atlantic, where you will improve your life drawing skills alongside performers on aerial silks. The event runs from 10:30 a.m. to 3:30 p.m. at Halifax Circus, but space is limited so come early.
Or, if you prefer more of a drop-in experience with the whole family, visit the NSCAD Artist for a Day event at their Port Campus, Marginal Road, for an excellent event of community art where you can try out may art and design activities, and where we're co-presenting Pixelation Nation, thanks to artist and NSCAD faculty Becka Barker. More information for both events at anifx.ca.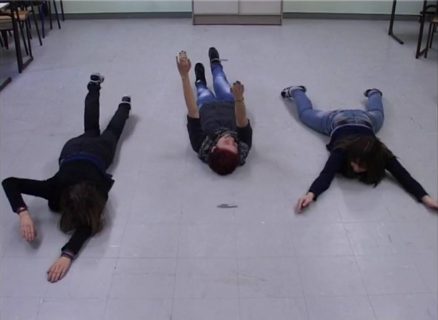 Also on Saturday, at 2 p.m., you can get a sneak preview of how animation is used in the medical profession, including virtual reality! Come for a demo by Electric Puppets at the Museum of Natural History, and sign up for your own VR test session on Sunday, May 13. Whether you're curious as a patient, or interested in making a living as an animator in the field, you'll hear about an amazing panel of incredible innovators, from the IWK and Dalhousie University to Ubisoft and Nova Scotia Business Inc.. You can meet the panelists yourself on Sunday at 11 a.m. at InNovaCorp, including doctors, nurses, youth workers and VR makers.
Back at the Museum on Saturday, join us for some social time and hors d'oeuvres from 3 to 5 p.m., followed by a panel entitled The Big Picture: Animation With Social Impact. This incredible public event will take place from 5 to 6 p.m., before the Festival's closing screening, and the presentation of the Helen Hill Animation Award. The panel will be hosted by Dalhousie University's Shannon Brownlee. She notes: "Animation burrows into our hearts, changes our minds, expands our imaginations, and consequently transforms our society. Our invited panelists create work with powerful social impact. They see – and show us – the Big Picture."
The Festival will close with a screening of VEGAN DELIGHTS: CANADIAN SHORTS from 6:30 until 9 p.m., including an extended Q&A with three of the filmmakers, and live music by BurgerFriesPop & Rasquatch immediately following.
The Animation Lounge at the Natural History Museum is open during the entire festival. You can meet up with friends, artists, and potential new animation partners, or just hang out.