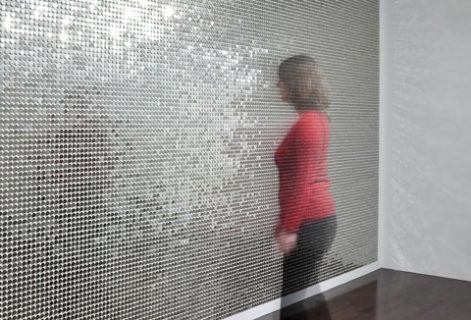 A strong contingent of NSCAD artists is featured in a new and important exhibition of Canadian contemporary art at the Massachusetts Museum of Contemporary Art (MASS MoCA).
Approximately one-third of the more than 60 artists, artist collectives and curators taking part in Oh, Canada have connections with NSCAD University either as students, faculty or alumni. The exhibition, the largest survey of Canadian art in decades, opens Saturday, May 26 in North Adams, Massachusetts, and runs to April 1, 2013.
That fact wasn't lost on Oh, Canada curator Denise Markonish, who came to Halifax two summers ago and was ferried around by none other than Garry Neill Kennedy, who served as NSCAD president as the school forged an international reputation at the leading edge of the conceptual art movement. He's written about that time in The Last Art College: Nova Scotia College of Art and Design 1968 to 1978, an inch-and-a-half-thick tome published by MIT Press, which he'll launch during the exhibition's opening weekend. He's also contributing a work called Spotted, comprised of 72 images of alleged CIA rendition airplanes transporting suspected terrorists.
"You can see the legacy that's been built (at NSCAD)," said Markonish. "It's such a huge force in the Canadian art world. I think there are so few institutions that foster that kind of experimentation and learning and legacy. It's really remarkable, both for its heyday and continuing to now."
Among those invited to take part are student Joseph Tisiga, a member of the Kaska Dene First Nation from Whitehorse, who just completed his Foundation year at NSCAD; Craig Leonard, assistant professor in the Division of Foundation Studies, who is contributing a piece called Legacy Maple; and alumnus Micah Lexier (MFA 1984) who has been commissioned to create a new work A Coin in Every Corner, comprised of a series of specially minted coins installed in corners throughout the expansive gallery. Professor Kim Morgan's Range Light Borden-Carleton, PEI, a full-scale, 3-D imprint of a decommissioned range light, may well become a signature piece for the show.
Also contributing are: NSCAD faculty members Michael Fernandes and Eryn Foster (currently on leave at Yukon College); Eric Cameron (former faculty); Michael Snow (honorary degree recipient 1987); and NSCAD alumni David R. Harper (BFA 2006), Sarah Anne Johnson (BFA 2007), Kelly Mark (BFA 1994), Luanne Martineau  (91-92), Rita McKeough (MFA 1979), Graeme Patterson (BFA 2003), Ned Pratt (BFA 1989), and Mitchel Wiebe (MFA 1996).
The comprehensive 450-page catalogue by MIT Press which accompanies the exhibition includes contributions by notable writers Lisa Moore (BFA 1988), John Murchie (former staff), Steven Holmes (MFA 1994), Bruce Johnson (BFA 1988), Cliff Eyland (BFA 1982) and Jen Budney (BFA 1995).