Fun with NSCAD Fall Courses
Explore your passion with NSCAD Fall Courses.  Fresh fall courses now available for youth and adults.  No experience necessary. We have a wide selection of new courses as well as some classics taught by our talented instructors. We always welcome new people interested in learning about art making.  We have  a lot to share with you!
Making art is easier than you think! Whether you're interested in career or personal enrichment, taking courses as a stepping-stone to full-time studies, or just for the fun of it, we offer a wide range of short and long term courses, workshops, open studios and online courses.
Have you considered these NEW NSCAD Fall Courses:
Modern calligraphy has become increasingly popular as it combines new and traditional tools to create a more free-form style of writing, maintaining the elegance of traditional calligraphy while allowing for more self-expression. In this course, students will receive detailed, hands-on instruction each week and learn the fundamentals of pointed-pen calligraphy – from nib preparation to basic strokes to letter and word formation. We will also discuss addressing envelopes, writing on non-traditional surfaces, and creating larger works. No experience necessary.
Introductory Children's Book Illustration
From Beatrix Potter to Maurice Sendak, artists have created beautiful illustrations that both delight and captivate the imagination of readers from around the world. These artists have created illustrations using a variety of mediums, techniques, and procedures. This course will introduce you to the process used to create children's books and start you on the path to illustrating your own stories.
3D Modeling (Open Source)
Over the course of 10 weeks, students will have the opportunity to explore two of the most commonly used OPEN SOURCE 3D modelling platforms. This course provides an accessible entry point to a technology which is growing in popularity in the public spectrum and introduces its possible uses in different fields. Students will work on a variety of projects designed to ease them into 3D modelling, and complete one final, 3D printable object of their own design.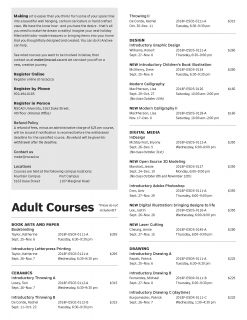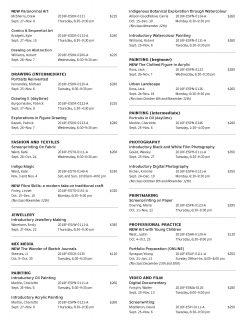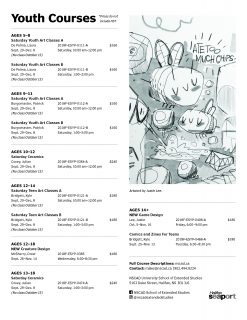 To view the NSCAD Fall Course flyer as a printable PDF click HERE
For more course information click HERE.
Contact us at 902.494.8224 | make@nscad.ca
Be the first to learn about our courses, discounts and special events by following us on Facebook, Instagram, Twitter or send us an email at make@nscad.ca.