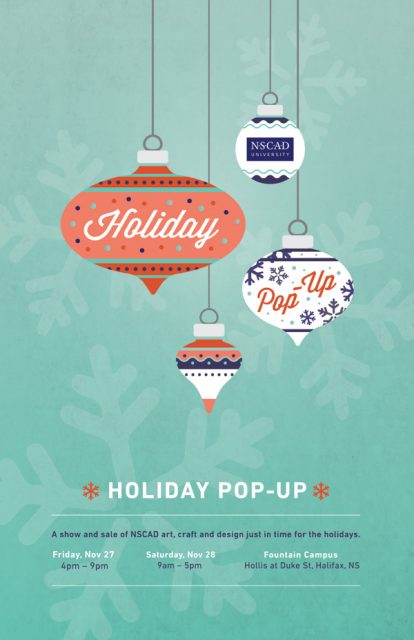 NSCAD will host the second annual Holiday Pop-Up, taking place Friday, Nov. 27, 4-9 pm, and Saturday, Nov. 28, 9 am to 5 pm, at various storefronts on the Fountain Campus.
The Holiday Pop-Up is a showcase of NSCAD's craft, artistic and design talent, just in time for the holidays. This pop-up is a wonderful opportunity for students to get exposure to customers in a retail environment. One-hundred per cent of proceeds will go directly to participants. The Holiday Pop-Up is organized by NSCAD's Office of University Relations.
For more information, please pop by the Office of University Relations, 4th Floor, Duke, from 8:30 am to 5 pm weekdays. Or email your questions to universityrelations@nscad.ca.
The deadline to apply is November 4th at 4 pm or while space permits.