When sculptor Vassilis Vassili began grinding away at the granite boulders that would become the sculpture Passage, he thought a lot about Anna Leonowens, whose spirit was an inspiration for the artwork.
In the beginning, he had no idea who Anna Leonowens was, let alone her contributions to art and culture in Nova Scotia as the founder of the Victoria School of Art and Design (now NSCAD University).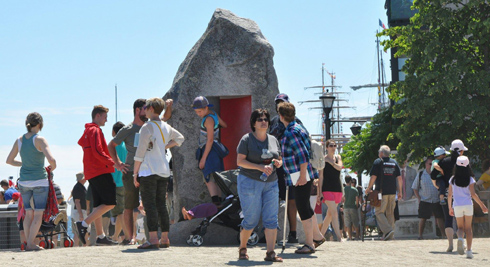 Reading about her and talking about her with Peter Wunsch, the former president of the NSCAD Alumni Association, Vassili was intrigued by her drive and courage. As a 19th century single parent with no income after her husband died, she had to find a way to support herself and educate her two children. Of Anglo-Indian descent, she reinvented herself as an English lady and found a position as the governess to the King of Siam's 60+ children (made famous in the Broadway play and Academy Award-winning musical, The King and I.) Later in her life, she immigrated to Halifax as a well-received author and lecturer, and resumed her governess role to supervise the education of her own grandchildren. She also became involved in the community as a social activist, working to improve the lives of women and children.
"She had an incredible spirit," said Vassili. Originally from Athens, Greece, he's a newcomer to Halifax too, and relates to Anna Leonowens' desire to make a mark on her adopted home.
Vassili's contribution comes in the form of a nine-tonne sculpture carved from Nova Scotia granite, donated and installed by Windsor-based Heritage Memorials. Created during Sculpture Nova Scotia's first outdoor waterfront symposium in 2015, Vassili's work was commissioned by the NSCAD Alumni Association, which was keen to see the legacy and spirit of NSCAD's founder recognized through public art. Since the work's completion two years ago, it has been in storage until its ideal location on the Halifax waterfront was readied by Waterfront Development and a volunteer installation team.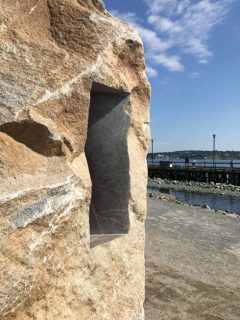 Vassili spent four weeks carving and polishing a curved passageway through the top boulder, big enough for a person to squeeze through. Situated at the foot of the Salter Lot near Bishop's Landing, the opening frames a view to the east, to George's Island, the Atlantic Ocean, and the world beyond Halifax Harbour (including India where Anna Leonowens came from). One polished granite wall of the opening is left natural grey-blue; the other is painted red, the colour of passion. Timed right, a viewer could watch the morning sun rise through the opening—symbolizing a new start for many in a new home.
"To me, this makes sense for Halifax, which has traditionally been a gateway for many immigrants to Canada from around the world," says Vassili. "I wanted to create a space which can function as a window to connect to the other side."
His aim is also to create public art which intrigues and invites interaction. This certainly was the case the day we met at the sculpture, as people took the time to circle and regard it from every angle. Parents lifted their kids to the opening and they crawled through. Others, like artist Chris Shute, sat in it and treated it like a throne.
"It's been amazing to see," says Vassili, who was in Greece when the sculpture was installed and participated via Skype. "My intention is to lead, to provoke the viewer to come closer, and why not, to pass through the stone."
Another legacy of Sculpture Nova Scotia is an "anti-monument" conceived and fabricated by NSCAD Assistant Professor  Angela Henderson (MFA 2016), and recently installed in the Granville pedestrian mall adjacent to NSCAD's Fountain Campus.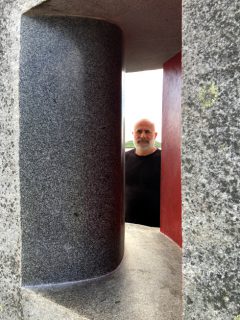 A Site Repair for Anna Leonowens is a counter monument that returns a defunct monument to street level by repurposing the existing materials of the commemorative structure. The new centre stone is inscribed with a quote by Anna Leonowens that reads in a continuous circle, with no beginning and no end, leaving it up to the viewer to choose how they read it – "There is compensation in all things" or "In all things there is compensation" are possibilities.
The words are surrounded by hand-split granite paving setts, extending outwards to a reconstituted black granite ring from the old fountain, a subtle interruption of the existing cobblestones. When choosing to identify the work as a site repair, Angela states that she was responding to the question of how to represent a colonial figure in the public space of unceded Mi'kmaq territory. Referencing a quote of Anna Leonowen's "there is compensation in all things," the counter-monument resists representation, instead offering a trace of the perimeter of the former monument with a gesture that allows the viewer to make their own meaning from the installation.