Patrick Cruz, visiting artist July 15 – 27
Anna Leonowens Gallery, 1891 Granville Street

The Anna invites you to join us in welcoming our next visiting artist exhibitor Patrick Cruz. Cruz will be on campus July 15 – 27th with his exhibition Lobster Spirits opening on the 22nd.
Cruz is a Filipino-Canadian artist working between Toronto, Canada, and Quezon City, Philippines. He studied Fine Arts at the University of The Philippines and received his BFA from Emily Carr University of Art + Design and an MFA at the University of Guelph. Cruz is the founder of Kamias Special Projects, an artist-run space in Quezon City, Philippines that hosts the Kamias Triennial; a platform for cross-cultural exchange and experimental curatorial strategies.  In 2015, Cruz won the national title for the 17th annual RBC Canadian Painting Competition and was recently longlisted at the 2019 Sobey Arts Award.
Cruz has exhibited widely. Some recent exhibitions include: Transparencies II Fedlfünf (Berlin, DE); By What Signs Will I Come To Understand, Franz Kaka (Toronto, CA); 1st Manila Biennale (Manila, PH); An Assembly of Shapes, Oakville Galleries (Oakville, CA); Titig Kayumanggi, Plug In ICA (Winnipeg, CA); Low Class Minimalism and the Gentrified Amateur, Projet Pangee (Montreal, CA); Survival Guide, Art Gallery of Alberta (Edmonton, CA); and, something like fire dancing, Susan Hobbs (Toronto, CA);  & Radiation, Art Center of Chulangkorn (Bangkok, TH).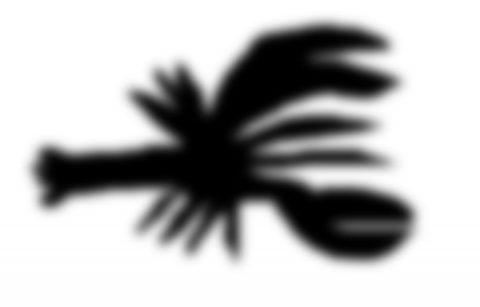 Exhibition: Lobster Spirits
July 23 – August 3, 2019
Opening Reception Monday, July 22 at 5:30pm
Once abundant and bountiful, lobsters were previously served as prison food and used as fish bait and garden fertilizer. It wasn't until the mid 19th century that lobsters were recognized as haute cuisine elevating its marginal status into an aristocratic one. Besides its innate capability to continually molt, lobsters possess unique anatomy. Supposedly, the stoic crustacean cannot process pain due to the absence of cerebral cortex. In addition to this strange biological phenomenon, its brain is located in its throat, nervous system in its abdomen, teeth in its stomach and kidneys in its head. It listens with their legs and tastes with their toes.


The Summer Visiting Artist Exhibition Series
is made possible with the generous support
of Arts Nova Scotia.