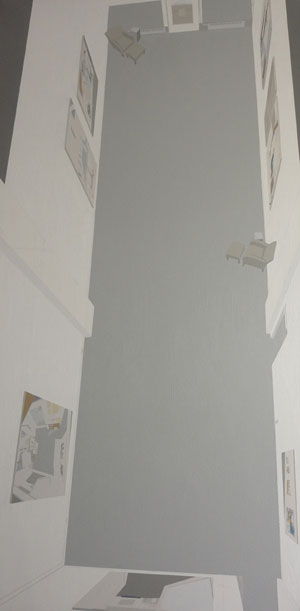 Philip Delisle has been named the 2012 recipient of the $25,000 Joseph Plaskett Award. The announcement was made at the annual general assembly of the Royal Canadian Academy of Arts on Saturday, May 26 in St. John's, Newfoundland.This award is offered by senior Canadian artist Joseph Plaskett and provides an opportunity for an outstanding emerging Canadian painter to live or study in Europe over the course of a year. The award is administered by a partnership between the Joseph Plaskett Foundation and the RCA.
"The opportunity to travel, and to study in, Europe is going to be extremely beneficial to me, particularly because my work is highly dependent on the use of linear perspective–often with multiple vanishing points occurring within the same picture," says Philip. "My work is largely indebted to the European perspective models. Seeing, in person, the sites where linear perspective was invented will be of tremendous benefit. I look forward to seeing many of these works first-hand and to having time to consider them."
Each year, the Foundation appoints three Canadian artists of significant reputation to the jury and the final process occurs each year in a different city in Canada. Jury members for this year's prestigious Joseph Plaskett Award include: Jan Peacock, the Governor General Award Winner in Visual Arts for 2012, Alex Livingston, painter and professor at NSCAD University, and Peter Dykhuis, director of the Dalhousie University Art Gallery.
Philip, who just graduated with his MFA from NSCAD, has already received much attention for his work. Notably, he was a finalist at NSCAD's Starfish Student Art Awards and has received grants from the Pollock-Krasner Foundation, Canada Council for the Arts, Ontario Arts Council, and Toronto Arts Council. He has had solo exhibitions at Artcite, Windsor, Forest City, London, and his thesis show Strange Connections and Framing Conventions at the Anna Leonowens Gallery in Halifax, as well as group shows at Page and Strange, Halifax, Art Mûr, Montreal, The Kitchener Waterloo Art Gallery, Cambridge Galleries, Propeller in Toronto, Gallery 101 in Ottawa and the Art Gallery of Peel.
The British Columbia-born artist Joseph Plaskett, now in his 95th year, established his Foundation in 2004 to support a mature Canadian MFA student to travel and/or study art in Europe for one year "to enjoy the privileges I experienced more than a half century ago."
LINKS:  Philip Delisle's website | Joseph Plaskett Award