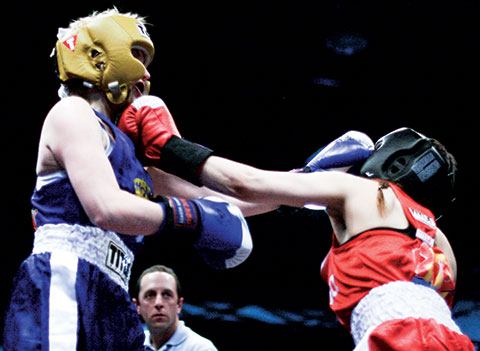 As part of the NSCAD Public Lecture Series, Maud Lavin, Art Historian in the Department of Art History, Theory and Criticism at the School of the Art Institute of Chicago, will deliver "Bring It On! New Images of Feminine Aggression in Art and Visual Culture," in the Bell Auditorium on Friday, October 2, 2009 at 7:00 p.m.  A reception will follow at the Anna Leonowens Gallery 1.
In this lecture, Maud Lavin explores the new, complex, expansive, and mainly positive representations of feminine aggression in U.S. culture since the 1990s.  She focuses on the recent wave of women and sports movies like the cheerleading movie Bring It On! and the gymnast movie Stick It as mass-cultural examples.  Lavin explores the expression of aggression within and from art and activist groups like Toxic Titties as a related development in the art world.
Chair of and professor in Visual and Critical Studies at the School of the Art Institute of Chicago, Maud Lavin is the author of Cut with the Kitchen Knife: The Weimar Photomontages of Hannah Hoech (Yale UP) and Clean New World: Culture, Politics and Graphic Design (MIT), and the editor and co-author of The Business of Holidays (Monacelli/Random House) and The Oldest We've Ever Been (Arizona).
Lavin is the recipient of an NEA Grant and a Guggenheim Fellowship, and is currently writing a book on new images of feminine aggression, under contract with MIT Press.