The NSCAD community is saddened by the recent passing of Cliff Eyland, a much-loved alumni (BFA 1982), instructor, mentor and friend of the university.
Cliff passed away on May 16, 2020 in Winnipeg, MB. He grew up in Nova Scotia and left a lasting legacy in his home province.
"I feel so lucky to have known Cliff and to have worked closely with him. He was generous, mischievous, and fun," said Erica Mendritzki, Assistant Professor, Fine Arts, NSCAD University. "He knew how to cause the right kind of trouble, and how to stir things up while still being kind. He was so open to life. I'll miss him dearly."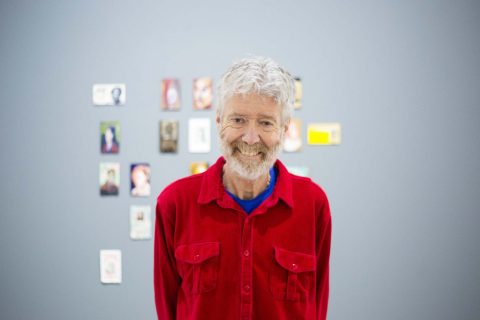 Cliff moved to Winnipeg in 1994, where he was an associate professor at the University of Manitoba and Director of Gallery One One One. He also taught at NSCAD during the summers from 1997-1999, all the while developing a reputation as a prominent artist and writer with a fondness for libraries and a prolific exhibition history. Today, his 6,000 small paintings grace the new Halifax Central Library.
"As an artist, Cliff's work has been exhibited in galleries, exhibitions and libraries across Canada, the United States and Europe. His work itself is memorable for so many reasons, but that was just one aspect of Cliff that made him so special," said Dr. Aoife Mac Namara, President, NSCAD University. "Cliff was a kind, caring, enthusiastic, and supportive person. He was so sincere, whether he was critiquing a student's work or asking you about your life. That's why he inspired so many young artists."
For more than three decades, Cliff used a unique format for making art: he produced tiny paintings, drawings and notes on canvases the size of library index cards (7.6 x12.7 cm). Part of this body of work is permanently installed at the Halifax Central Library.
His exhibition highlights include solo shows at the Art Gallery of Ontario in Toronto, the National Gallery of Canada Library and Archives (residency/installation/exhibition), the New School University in New York City, the Winnipeg Art Gallery, the Art Gallery of Nova Scotia, the Saint Mary's University Art Gallery and the Dalhousie University Art Gallery.
Cliff was also part of group exhibitions in France, Italy, England and Poland. His installation at the Raymond Fogelman Library in New York City was regularly updated from 1997 until 2005.
To celebrate Cliff's life, his family has endowed a scholarship for a painting student at NSCAD.