When a studio faculty member at NSCAD retires, the Anna Leonowens Gallery traditionally offers them a solo exhibition to celebrate their work and contributions to the NSCAD community. Like all events during the pandemic, these exhibitions took a hiatus until social gatherings could safely resume.

The break in tradition helped Dr. Bruce Barber, NSCAD Professor Emeritus to imagine a group exhibition of recent studio faculty retirees. Everyone immediately embraced the opportunity to profile and celebrate the last generation of faculty hired by former NSCAD President Garry Neil Kennedy, who turned NSCAD into a world centre for conceptual and avant-garde art in the 1960s and 70s. Kennedy passed in August 2021.
The seven retirees in the exhibition – Pamela Ritchie, Bruce Barber, Jan Peacock, Barbara Lounder, Robert Bean, Neil Forrest and Thierry Delva – represent over 200 years of accumulated teaching, research, creative production and service to NSCAD. The works in the exhibition speak to the indelible legacy the seven artists leave to NSCAD, as well as the university's lasting impact on them.
In the description of her sculpture The Bones of Shank's Mare (2009-2021), a grouping of white-painted walking sticks that served various practical and artistic purposes, Professor Barbara Lounder writes: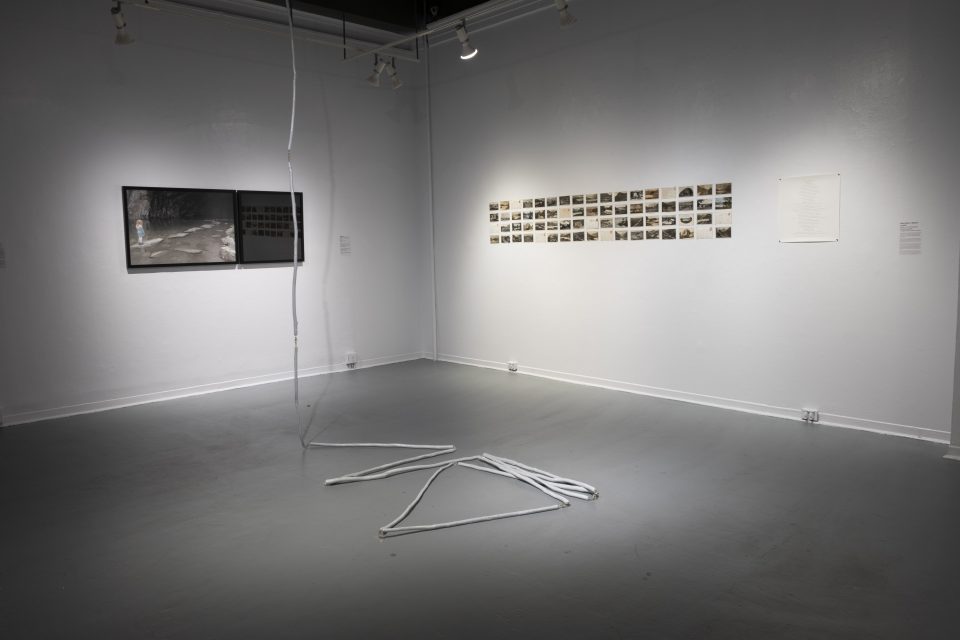 "These sticks have had many creative lives, as have I. Over the years, NSCAD provided me with an excellent environment to learn about the power of art to positively affect our daily lives, for which I am very grateful."
While these seven artists retired at different stages of the pandemic, the time they spent at NSCAD and their enduring impact on students' success is a poignant reminder that more than ever the world needs art, and it needs artists to keep shining a light on their contributions to our collective wellness.
The group exhibition continues until November 6 at the Anna Leonowens Gallery, 1891 Granville Street, Halifax NS. Special thanks to the Anna's install assistant MFA student Andrew Harris, who helped mount the exhibition. All images on this page courtesy of Anna Leonowens Gallery – photographer: Britt Moore-Shirley (except Retrospective DVD – photographer: Kate Walchuk) .