It's not easy to be an artist. Which is why the Robert Pope Foundation has given a hand up to more than 140 students at NSCAD University over a 21-year association.
The foundation, established in the memory of artist Robert Pope, has renewed its pledge to NSCAD, providing an additional $35,000 a year for the next five years. This new pledge to the university brings to $525,000 the monies provided by the foundation to NSCAD since 1994.
"When someone makes the choice to be an artist, it's not easy. For a lot of people, they incur debts as students and then they graduate and find a job. But as an artist, you still might have to go through a period where you are developing a style and getting a career rolling," says Doug Pope, president of the Robert Pope Foundation and the brother of the late artist. "We want to recognize that struggle and support artists."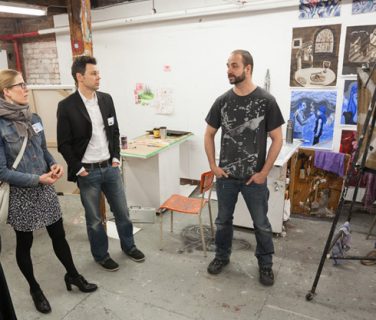 NSCAD student John Fairfull says receiving a Robert Pope Painting Scholarship is the kind of recognition that keeps you going.
"I can compare it to when I had a painting up in the Starfish Student Art Sale this year.  Just seeing that people were looking at my work, really investigating it close up, felt amazing! It was a reward beyond the idea of some kind of economic gain. The notion that my work left the studio and entered a larger world feels great," he says.  "This is the feeling that I get when I receive a scholarship. It serves as a motivating force that stokes a creative fire."
Adds President Dianne Taylor-Gearing: "We are deeply grateful for the continuing financial support of the Robert Pope Foundation and Doug Pope's personal interest and engagement with NSCAD. It is wonderful to be able to award these scholarships that acknowledge and encourage the talent, hard work, and dedication of our students."
Robert Pope was an artist and NSCAD graduate, who completed a large series of paintings on the experience of cancer before he died in 1992 at the age of 35. His monumental series of artworks on the experience of illness are still used to educate medical students and have been exhibited at every medical school in Canada and many in the USA. The works have also been exhibited in England, Ireland and Australia, and are now in the collection of the Art Gallery of Nova Scotia.
The Robert Pope Foundation was founded in 1992 to support programs that relate the arts and medicine. The foundation also supports programs for cancer patients, community wellness and palliative care.  At NSCAD, the Robert Pope Foundation Endowment Fund funds scholarships for both first-year and graduate students and those studying painting, along with bursaries for undergraduates.
"Our association with NSCAD is a direct link to Rob. NSCAD was formative in his development," says Doug, a writer, educator and filmmaker. "It is such a special school. It's small and the staff is exceptional."
The foundation also supports the Bill and Isabel Pope Residency in Painting, a two-month residency at NSCAD which provides emerging and mid-career painters with a $8,000 honorarium and studio space, culminating with a solo exhibition at the Anna Leonowens Gallery. Artists who've come to NSCAD through the residency are Colin Doward from Edmonton, AB, Rachel MacFarlane from Toronto, ON and Rick Leong from Victoria, BC.
The residency program is named for Doug's parents, who started the foundation after his brother Robert's death as a way of coping with his loss. They also drove across Canada with crates of Robert's paintings, exhibiting them and talking about their son and his art. "It's a very traumatic thing to lose a child and this was their self therapy," says Doug.