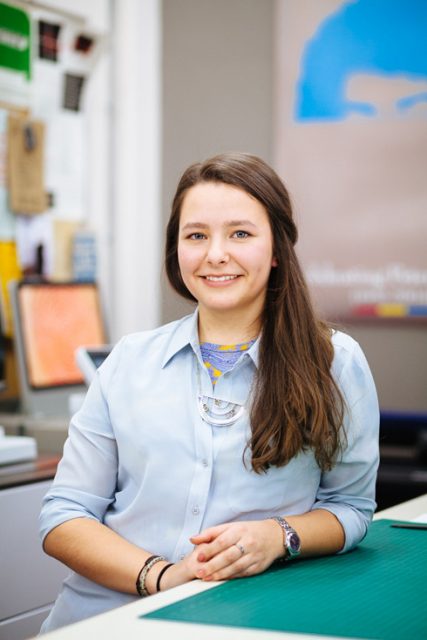 One day Ksenia Azanova was sitting in her Applied Typography class listening to a group of professionals discuss a new logo they'd like designed for their event Dine By Design East.
Her ears immediately perked up when she heard the name and she thought to herself, "Oh my God, of course I'd be in the class they're presenting this to!"
You see Ksenia, a third-year interdisciplinary design student from Vancouver, is the first recipient of the Amber Harkins Memorial Scholarship. Funded through the proceeds of the event, Dine By Design East, the Amber Harkins Memorial Scholarship is named for a  former editor of East Coast Living who passed away from cancer in 2012 at age 40.
Ksenia raised her hand and introduced herself. She was so excited to meet the people who helped her fund her current semester of school. It was a bit of an emotional moment for some in the group, who were equally excited to meet her.
Ksenia described the moment by saying, ""It was really nice to know that there was a person or persons behind the scholarship," she said. "They were so kind, I got hugs from everybody and they said 'We're so happy you're here.' "
The brainchild of Jonathan Legate of Jonathan Legate Interior Consultation and Suzanne Saul of Attica Furnishings (BFA '87), Dine By Design East was established in 2013 to bring together the design community to celebrate Nova Scotia design and cuisine and raise funds for a NSCAD design scholarship. In its first year Dine By Design East raised $20,000 dollars for the Amber Harkins Memorial Scholarship fund with the inaugural scholarship of $3,000 going to Ksenia for the Winter 2015 semester.
Awarded for the fall and winter semesters, the scholarship is open to all full-time students currently enrolled in NSCAD's Bachelor of Design Program who demonstrate a strong academic record and financial need.
When Ksenia received the e-mail saying that she got the scholarship, she was skeptical, thinking there must have been some kind of mistake, that somebody made a typo. She'd received scholarships before never one for so much money. She recalls checking her student account every day to see whether the scholarship money had come off of her account, waiting to see whether the amount was $3,000 or $300.
"It definitely helped a lot this year, it was kind of one of those situations where I didn't really know how I'd pay for tuition.  It made my life so much easier," she said with grateful tone to her voice.
Ksenia is a perfect fit for the scholarship. Not only is she a talented designer, but she's passionate about food and interior design, the core elements that make Dine By Design East so special.
"I love food and obviously design.  I am obsessed with interior design and renovation shows. My dad is an electrical contractor, he completely re-did our house and my mom was like 'We're going to do this, this and this' so I've kind of been around it," she said.
Ksenia currently takes her design inspiration from Jessica Walsh and Stefan Sagmeister. She believes that good design is, "When you can clearly and beautifully communicate a message, and it doesn't necessarily have to be this elaborate, complicated thing. When you can distill it (design) to its simplest form and you get the message across."
Ksenia is currently the design intern working on the 2015 Graduation catalogue and hopes to go on exchange in the Fall.