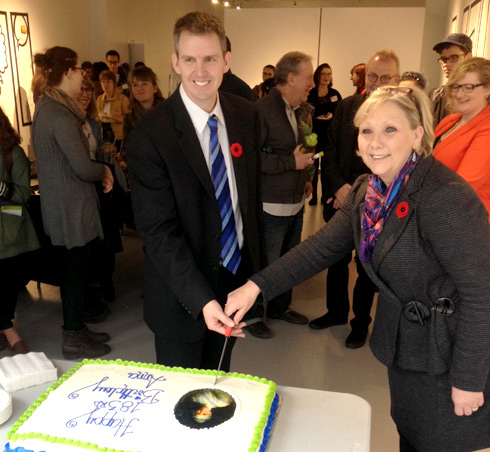 NSCAD University President Dianne Taylor-Gearing welcomed a $150,000 donation from Scotiabank that will fund scholarships for NSCAD students.
"Supporting the arts is something that is very important to us at Scotiabank and we truly believe we get more from the arts than we could ever give," says Gordon Brost, Scotiabank's District Vice President. "We recognize the crucial role that the arts play in our lives by encouraging us to develop new perspectives and enrich our communities."
The donation was announced during NSCAD University's Student Awards Reception, held on November 5th, on the birthday of university founder Anna Leonowens in the Anna Leonowens Gallery.
NSCAD's long association with Scotiabank stretches back to the university's founding in 1887. Established as Victoria School of Art and Design, the school's first home was located in rooms over the bank at the corner of Hollis and Prince Streets. The connection between the two Nova Scotia institutions was Anna Leonowens' son-in-law Thomas Fyshe, general manager of the Bank of Nova Scotia.
"We are so grateful to Scotiabank for their renewed five-year commitment to NSCAD, an association that goes back more than 125 years," says Professor Taylor-Gearing. "Scotiabank scholarships let us attract top students to NSCAD, not only from across Canada but from around the world."
Julie Hall is a second-year NSCAD student with an intermedia focus and a Scotiabank scholarship recipient.
"The scholarships I received for the 2014-2015 school year made it possible for me to invest in my art practice," she says. "Knowing almost all of my fall tuition was externally funded provided me the support to focus on my work and have a successful gallery show with my art partner following our foundation year. I'm extremely grateful for this opportunity."
As well as investing in scholarships, Scotiabank also committed to being the presenting sponsor of NSCAD's important community event, Artist for a Day. Held in the spring to coincide with I LOVE LOCAL's Open City event, Artist for a Day attracts thousands of people, young and old, to NSCAD's Port Campus to try their hand at art, making everything from jewellery to stop-motion animation and life drawing.
"Scotiabank's assistance allows us to continue to hold Artist for a Day and to keep it as free and as accessible as possible," adds Professor Taylor-Gearing. "Artist for a Day lets members of the community get a sense of what it's like to unlock creativity and to be an artist—something that students do every day at NSCAD."
The Scotiabank Bright Future Program is the bank's philanthropic program. Since the bank's inception, Scotiabankers have been giving back to communities in order to create better places to live and work. Through the Bright Future Program, the bank concentrates its corporate giving in six areas: education, health social services, arts and culture, sports and environment.