Receiving the Roloff Beny scholarship allowed NSCAD student Katherine Nakaska the chance to reconnect with her Scottish heritage.
In the small village of Holytown nestled outside Motherwell in North Lanarkshire, Scotland Katherine Nakaska began a journey to re-discover her family history through photography.
A recipient of one of two Roloff Beny Photography Scholarships, Katherine set out to archive her family's heirlooms and capture their significance.
"I had this idea for a long time that I wanted to go back to Scotland where my Nana's family was from and build this connection that was lost when she emigrated here," said Katherine, in the final year of her BFA at NSCAD.
"I had been there before, but for a very short time, only a few days and I didn't really have any time to create work, but I knew there were things there that I wanted to archive because that's what I'm really interested in in my practice."
The scholarship fund provided Katherine with the means to travel from Halifax to the U.K. She first arrived in London where her advisor Robert Bean set up an appointment for her to visit the Archive of Modern Conflict.
Katie was able to conduct research on vernacular photography, focusing on early portrayals of women in the workplace.  Her experience at the archive was eye-opening, allowing her to build professional connections, which she describes as "really important."
"Being in that sort of institution and getting to have a glimpse of something that I might want to do in the future, like working in an archive, it really inspired me to strive to do that eventually in my life. There were people there my age, sorting through acquisitions and just having a lot of fun," she said.
Traveling from London to Edinburgh Katherine met up with her cousin, also named Catherine, and began the trip to the Holytown house in which her grandmother was born.
Spending most of her time in the small former mining community, Katherine took advantage of her two-month stay by reconnecting with family, exploring the ruggedly beautiful Scottish terrain and trying to capture the essence of her family history by photographing family heirlooms.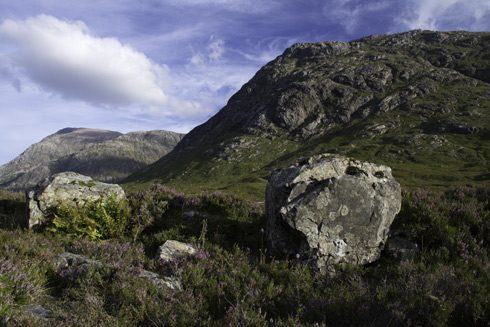 "Within my work I try to take my own personal objects or objects of my friends that might have a personal sentimental value to them and help the audience relate to them in some way so that they conjure up some sort of memory when they view these images.  Whether it's an old photograph or a piece of jewellery, I try to let the viewer imagine their own past within it," she said.
What Katherine did not anticipate was becoming taken with Scottish politics, but during her stay the political climate in Scotland was tense with talk about the upcoming vote for independence.
"One really influential part of my trip was the Scottish Independence Referendum. It occurred right in the middle of my journey there. I kind of dove right into politics, informed myself of different political issues and even though I couldn't vote I felt very passionate about it because it was all anybody ever talked about."
Although enthralled with photographing the political atmosphere, Katherine remained focused on her original concept of capturing the heirloom objects that tell a story and he, the theme her up-coming show will focus on this concept.
"I was in the midst of the independence referendum I felt like I was there to show everybody else my experience with that but I decided to just stick to my original plan even though I did create a lot of work about that political unrest, I ultimately decided it was more important for me to keep on track."
Having taken more than 7,000 photos, it is her hope that she will get to share her political experiences of living in Scotland, during such an historic time, in future exhibits.
She could not speak more highly of her experience, Katherine's face lit up as she talked about the off-campus study experience.
"It's changed my life for the better," she said. "I've been able to make this strong connection with my family in Scotland that otherwise I wouldn't have been able to do.  I brought all of this history back with me here for the rest of my family. I've been able to fine tune my artistic practice, to really discover what I want to create the most and I got to know myself a lot better, going on this journey alone just kind of made me discover my own strengths."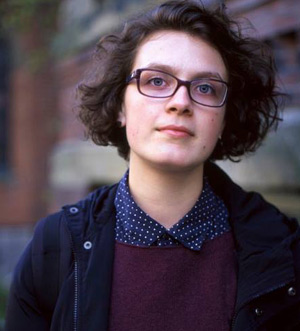 "I've been able to fine tune my artistic practice, to really discover what I want to create the most."
Having wanted to do an exchange, but not having the chance to Katherine is so thankful for the opportunities the Roloff Beny Scholarship offered her.
"I definitely would not have considered doing this huge project right now in my life if I didn't have the Roloff Benny to support me," she said.
She went on to say, "Having an off-campus study allows you to go out into the world, apart from NSCAD and work towards a project independently and you don't have that close connection with your peers or your advisors but you get to really discover your own…get a taste of what it might be like post-graduation if you wanted to do a similar project."
Katherine's work titled TUCHÉ will be on exhibit at the Anna Leonowens Gallery from January 20 – 24. An artist talk will be given Wednesday, January 21 at noon.