Arguably the best band ever to come out of Halifax got its start right here at NSCAD.
Let's start that sentence over: The best band ever to come out of Halifax got its start right here at NSCAD.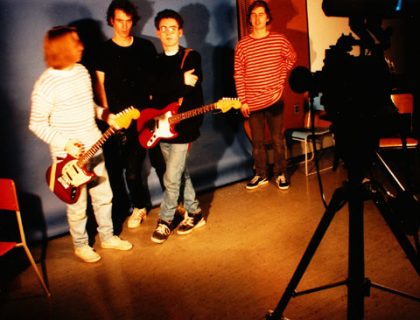 Sloan—Andrew Scott (drums/vocals), Chris Murphy (bass/vocals), Jay Ferguson (guitar/vocals) and Patrick Pentland (guitar/vocals)—had its first gig on February 11, 1991 in the NSCAD cafeteria.  After the noisy debut (Chris recalls an "extremely long noise freak-out with strobe lights"), things happened fast. Within 18 months, the band toured Canada, released an EP (Peppermint), recorded an album (Smeared), and signed a deal with a major label. Halifax was being hailed as the "Seattle of the North," and other Halifax bands—Jale, The Super FriendZ and Thrust Hermit—were on their way too.
Unfortunately (for us), Sloan has a gig in Chicago at the same time as The Back to School Special, taking place September 22 at the ol' alma mater. But band members will be there in spirit and have sent along some video clips of their first performance which will be screened during the concert. See if you can spot a classic Chris Murphy scissor kick.
The band has just embarked on a tour in celebration of an earlier album—Twice Removed. A fan favorite and critical darling, Twice Removed actually got the band dropped from its record label Geffen because it didn't sound quite like its more-grungy predecessor Smeared. As well as the cross-country tour, there's a deluxe vinyl reissue.  More dates in the Eastern U.S. and Canada are expected to be announced soon.
As they got ready for the tour, NSCAD alumni Andrew Scott and Chris Murphy took the time to reminisce about their NSCAD days.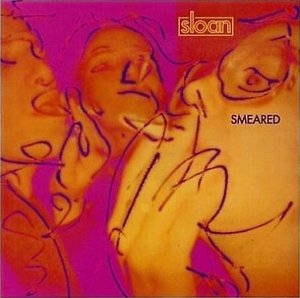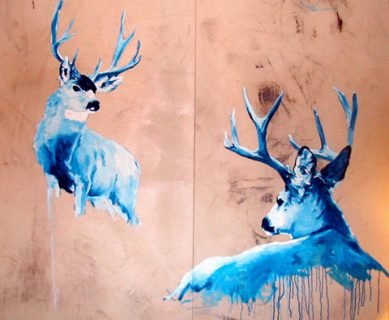 Andrew Scott
I attended NSCAD from 1986 to 1991. I entered directly after graduating high school and still maintain that these were the most formative, eye-opening years of my life thus far.
I initially enrolled thinking I would become a graphic designer. (But) I did an intro semester and quickly realized perhaps graphic design was not my calling after all.
I tried many other areas. Choices were all around, and smart, thoughtful instruction was always there too. Bruce Barber, the intermedia prof, introduced me to Dada and how to see things for what they really are. Dennis Gill was my sculpture instructor and quickly asserted himself as one of my most valuable mentors during my stay. Sandy Graham in the metal shop was a terrific educator. I tried and loved printmaking under the wonderful tutelage of Bob Rogers in lithography and Ed Porter in intaglio. A year or two into this area, I was hired as a technician in the printmaking department. Aside from the inevitable late night acid experiments Marcus Jones and I performed on various surfaces (we were both 'technicians' so we knew what we were doing—ha!), I  learned so much about the varying ways of transferring images and manipulating surfaces to do what I wanted them to do. Happy accidents were so much a part of the process and I thrived. I had heard that painting held these qualities too but I had no interest.
It was at this time that Gerald Ferguson approached me to re-etch a zinc plate with an image of an anonymous skull from a series of his earlier prints. I did the job to his satisfaction and then he said to me, "What the hell are you doing this stuff for? Do you plan to have a five tonne press and some giant slabs of limestone and a forklift available to work with after you graduate?"
I never really considered the reality in his statement because the facilities were so well established and appointed that, lost in the flow where I was in the school I just thought of it as my world. It was my whole world, plain and simple. I never thought about leaving or what came after NSCAD.
He convinced me to come and do his intro painting class the next year and I cannot believe I didn't enter it much sooner. We quickly became quite close—I was good friends with his son in high school so there were multiple connections. His way of teaching, as many knew, could be very confrontational and acerbic. Not for everyone. I gravitated to his expertise and learned so much from him, both about painting and life. I, along with many others, was deeply affected by his suicide a few years ago.
I lived in the studio until I left the college. I had worked with Alex Livingston and Gary Kennedy although Jerry was a true mentor figure for me. My band Sloan came together during my last couple of years at the school.  Chris Murphy and I were both at the college for a year or so.
Music and painting were very different pursuits for me for a long time. Music was this; painting was that. Collaborative here; solo there. It is only recently that I've given in to the fact that they're both basically the same thing. The band quickly became the main focus and I chose to go along for the ride willingly. Jerry was very supportive and always reminded me that "Painting is something you can do until the day you drop dead! Rock 'n' roll has a best before date attached to it. Go for it."
When I left to pursue touring with the band, a few art history credits were still outstanding toward my BFA and Jerry wondered if there were a way for me to send him postcards from wherever I was that could somehow be construed as a NSCAD credit worthy bit of "art potential." It never did happen but the band still continues as well as it ever has today as does my practice of painting and art making in general. Both could never have been possible without the school.
Upon entering the school in '86, my instructor told the class that "…maybe, maybe, one of us would be able to make a living as an artist." This has stayed with me and continues to bang around in my head as I write. I knew that it was what I wanted to do and to this day I'm still trying to figure out how to do it. I couldn't be happier with the choices I've made along the way, most of all, with my decision to go to NSCAD.
To see Andrew Scott's work, please see his website: www.andrewscottwork.com
Chris Murphy
I "earned" an English degree from Dalhousie in 1990 but I didn't have the marks or the interest to do post graduate work so it was another undergrad for me! My NSCAD experience was better for having gone to Dal though. It meant I had all of my academics and electives out of the way so I just had to do the fun stuff and a lot of what I used for my portfolio for NSCAD was drawn while not contributing in class at Dal.
My good friend, Andrew Scott had gone straight from high school into NSCAD so he was a lot further along in his studies and art practice than I. He was encouraging of me applying and he was part of the reason I wanted to go. I had hung out at his painting studio with him and was jealous of how friggin' cool it was in there surrounded by art and artists listening to music on radios that were covered in paint. I felt so square when I was in there.
Andrew was away for my first term when I did the Foundation program, which was merciful because everything I made would have been such an eye roll to him. He was back at NSCAD in January 1991 and we quickly formed a band that we called Sloan and played our first show Feb 8th, 1991 in the NSCAD cafeteria. We went on after a band whose name really says 1991: Wolfblitzer's Gas Mask. They did some rolling around on the ground but we upped the ante with an extremely long noise freak-out with strobe lights and interestingly a Bert doll of Bert and Ernie fame.
No thanks to us, the last band of the night, Coffee In Madrid weren't able to start until late so they ended up getting the "wrap it up" signal before they were done. When they refused to stop, they had the plug pulled on them and there was a huge kerfuffle about it being an art school and how dare the school interrupt their art. It was a huge fight. People were yelling! I was sorry to be the cause of the fight but it was exciting that there was a fight. These people took art seriously. Incidentally, one of my best puns ever was from the end of that night when I referred to Coffee In Madrid as Cut Off In Mid Riff.
I went to NSCAD thinking I could draw but was shown what real talent was when I got there. I hadn't taken art courses in eight years so I was out of practice. I ended up loving the TV studio and (linear) video editing. I learned history from Ancient to Medieval Art History. I had had no timeline in my head before that. Were cave paintings before the Renaissance? Turns out – yes. Alright, I would have known that but I really knew very little. I loved my sculpture instructor, Dennis Gill and my photography instructor, Gary Wilson. I loved David Clark for passing me even when I had to leave school before it was over in order to do Sloan's first tour.
I'm no great artist but it was during my NSCAD days that Andrew and I put together a band that is still recording and touring (with the same line-up 20+ years later. We always make the album art ourselves. We usually direct and often shoot and edit our music videos ourselves. Thanks for the tools and high concept, NSCAD.