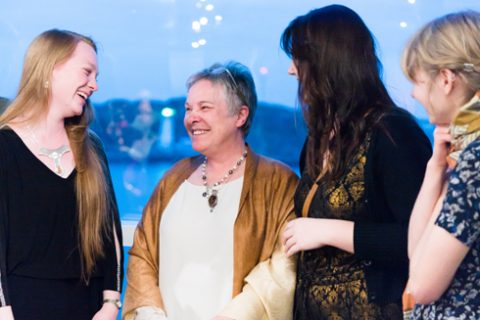 NSCAD student Christiane Poulin is the unanimous choice of the Starfish Jury to win the 2017 Starfish Student Art Award. The announcement was made in front of a full house at the Starfish Gala held at NSCAD's Port Campus on the Halifax waterfront.
Poulin receives the $5,000 purchase price for her art installation, Winds of Change: a Lace-scape, which becomes part of the NSCAD University collection
Winds of Change: a Lace-scape consists of several handwoven panels that hang from the ceiling and create a sense of space. In creating the installation that viewers can walk through and around, Poulin conjures the deck at NSCAD's Fountain Campus – an outdoor gathering space at the heart of NSCAD's charming and old downtown campus.
The art installation captivated the jury with its sense of architecture suggested by the beautiful lacy panels and their delicate shadows. Jury members agreed, "the ambition and conception of the piece were matched by its execution."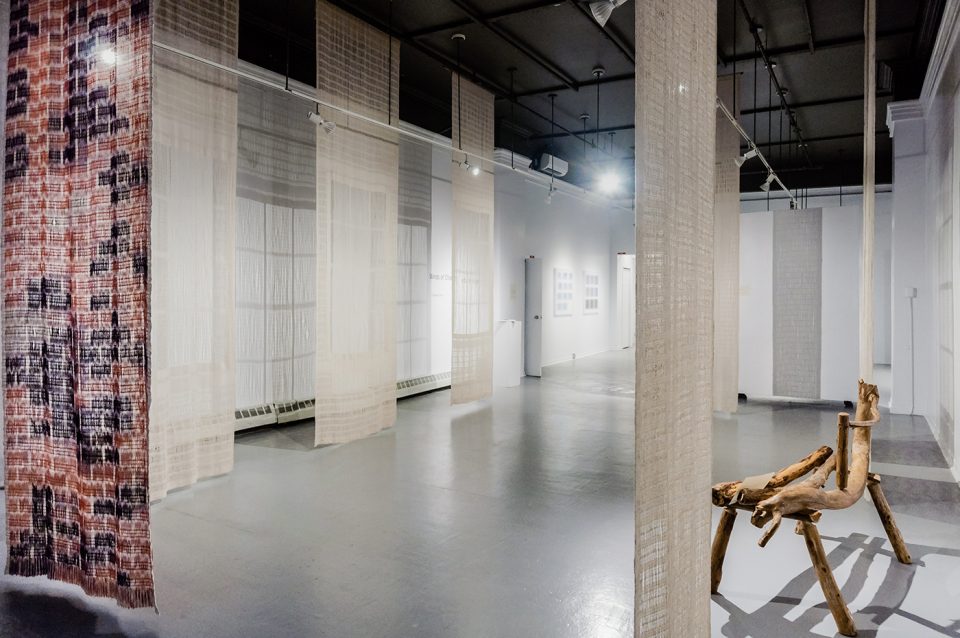 A retired public health doctor, Poulin returned to NSCAD 40 years after completing first year and will graduate on April 28 with a Bachelor of Fine Art degree.
The nine student finalists—Angela Arsenault, Carly Belford, Annabel Biro, Andrew Godsalve, Julie Hall, Jacob Irish, Ann McCosker, Julie Simmons, and Tamsin Sloots—each receive a $1,000 prize.
Members of the jury are: Susan Hanrahan, executive director of the Nova Scotia Designer Craft Council; Ingrid Jenkner, director of Mount Saint Vincent University Art Gallery; David Diviney, curator of Modern and Contemporary Art at the Art Gallery of Nova Scotia; and Linda Hutchison, Associate Vice President, University Relations, NSCAD University. The Starfish Student Art Awards are coordinated by Melanie Colosimo, director of NSCAD's Anna Leonowens Gallery.
This is the eighth year for the Starfish Student Art Awards, named for presenting sponsor Starfish Properties and supported by more than 30 corporate sponsors. NSCAD University is grateful for the support of property developer Louis Reznick, who initiated the awards to celebrate top talent across 10 visual arts disciplines at the university.
Special features of the gala included a "walking jewellery exhibition," a show and sale by NSCAD's Ceramics Department, and music by Not You, featuring NSCAD librarian Rebecca Young.
About the Award
Established by property developer and art collector Louis Reznick and NSCAD University to recognize and promote exceptional students, the award celebrates top talent across 10 visual arts disciplines at the university.The winning artist receives a $5,000 purchase prize, with the artwork added to a special section of the permanent President's Collection at NSCAD University known as "The Reznick Family Art Bank."  Nine finalists receive $1,000 each. This premier award provides emerging artists with vital visibility as they embark on their careers.