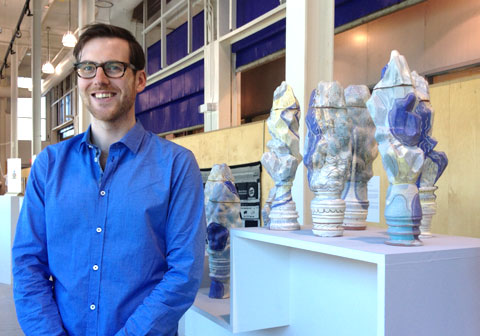 Graduating NSCAD student Torrance Beamish was named the winner of the 2013 Starfish Student Art Awards at the Starfish Gala on Thursday, May 2 at NSCAD's Port Campus.
The ceramics major claims the top prize at the Starfish Gala for Protosanctum, a series of lidded ceramic urns.  The 10 pieces, cast in slip earthenware and assembled from a series of plaster moulds, are inspired by the language and symbolism of ceremonial objects. The Victoria, B.C. native transferred to NSCAD in his third year, attracted by the university's reputation, top-notch facilities and supportive faculty.
He said he is "captivated by the challenge of ceramics. It brings together my interests in painting and sculpture in one art form."
After graduation, Torrance plans to spend the summer in Halifax and then move back to Victoria with his fiancée and set up a studio. "I'll be representing NSCAD on the west coast," he added.
"The jury was impressed by the maturity of the work and its well-considered presentation," says Eleanor King, the director of the Anna Leonowens Gallery, who served on the Starfish jury along with Peter Dykhuis, Director of Dalhousie Art Gallery, and Jamie McLellan, Coordinator of Public Art for HRM.
"Torrance's work is both functional and decorative, holding an interesting space between art and craft. The vessels are beautifully and sculpturally made and they point to not only ceramic history, but also to architectural and fine art references. It made sense to bring this series into NSCAD's collection, considering the school's commitment to fine art, craft and design."
Mr. Beamish receives the $5,000 purchase price for his work, which now becomes of NSCAD University's permanent collection. The nine finalists—Stacy TeBogt, Teto Elsiddique, Merle Harley, Mary Ellen Oxby, Danielle-Marie Nowlan, Dylan Fish, Duncan Ferguson, Carrie Allison-Goodfellow and Tori Fleming—each receive a $1,000 cash prize.
This is the fourth year for the Starfish Student Art Awards, named for presenting sponsor, Starfish Properties. NSCAD University is grateful for the support of property developer Louis Reznick, who initiated the awards to celebrate top talent across 10 visual arts disciplines at the university.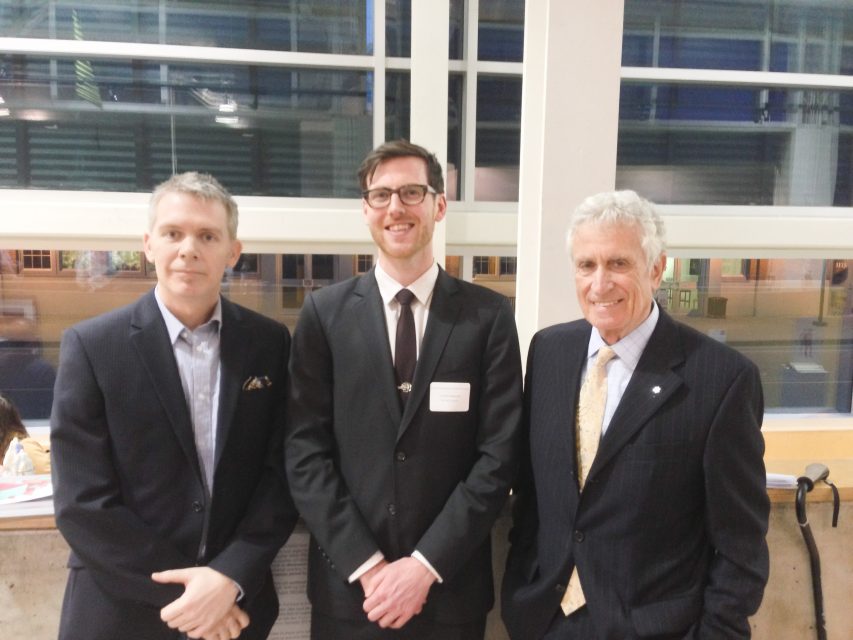 The Starfish Gala and awards are possible because of the generous support from corporate sponsors. A very big thank you to Starfish Properties, The Coast, Cushman & Wakefield Atlantic, Office Interiors, PCL Construction, Scotiabank, Stewart McKelvey Lawyers, Atlantic Automatic Sprinklers Ltd., Bell Aliant, Blue Ocean Contact Centers, CKG Elevator, Gordon Stirrett Wealth Management, Halifax Glass & Mirror Ltd., Hillcrest Volkswagen, Internetworking Atlantic Inc., Lydon Lynch Architecture, M&M Sheet Metal Ltd., Marriott Halifax Harbourfront, Steele Auto Group, TD Insurance Meloche Monnex, Telefilm Canada, Attica, Baton Rouge Restaurant and Bar, Brussels Restaurant and Brasseries, Carleton Music Bar and Grill, Garrison Brewing, Maritime Summit Shop, Payzant and RCR Hospitality Group.