Thank you to the NSCAD Student Emergency Fund donors!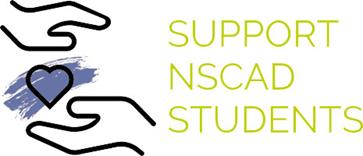 Thank you to our community – faculty, staff, alumni, board, friends – for providing NSCAD's students with financial aid to cope to extraordinary expenses resulting from the COVID-19 Crisis.
You are making a difference.
This list includes gifts received April 1, 2020 through March 31, 2021.
$5000 +
Margaret McCain Roy and Paul Roy, J&W Murphy Foundation, A.K. Prakash Foundation
$2500 – $4999
Accountant Staffing and Administrative Staffing, Joanne Hames, Donald and Beth Sobey
$1,000 – $2,499
Katherine Anderson, Michael Arno, Kevin and Karen Lynch, Aoife Mac Namara, Wilfred Moore & Jane Ritcey-Moore, Bonnie Patterson, Jan Peacock and Steve Higgins, Hildur Jónasson & Alex Poole, Deborah Tambon and Brian Harrison, Anonymous Donor
$500 – $999
Alexander, Frank Anderson, William Barker & Elizabeth Church, Nicoletta Baumeister, Charles W. Bishop, Amelia Carter, Marco Chiarot, Harry Cook, Elizabeth Currie, Julia Drew-Watt, Martine Durier-Copp, Judy Farnell, Debby Farnell Rudolph & Tom Rudolph, Neil Forrest & Sheila Provazza, Charles A.E. Fowler, Carson Gallagher, Jack Graham, Gregor & Ronald Gregor, Ydessa Hendeles, Grant Hillier, Kara Holm & Thomas Curran, Marlene Ivey, Kim Knoll, Dean Leland, Brian & Paulette Oickle, Alex Pincock, Calla Shank-Hogue, Jeff & Angie Somerville, Southwest Properties Limited, Anonymous Donors
$250 – $499

Barbara Bickle, Brian Clavier, Karin Cope & Marike R. Finlay, Luc Courchesne, Joan Dawson, Deanna Dobrowsky & John Keleris, Leanne Dowe, Paula Fairfield, Paul & Mary Goodman, Tanja Harrison, Eve Hartling, Diane Hiscox, David & Vivian Howard, Linda Hutchison & Robert Mullan, Robert LeBlanc, Craig Leonard, Neal Livingston, Barbara Lounder & Robert Bean, Tanya Mars, Bryan and Gillian Maycock, Robin Muller & Paul Dunphy, Dave Murphy & Sonia Salisbury Murphy, Van and Babs Penick, Ginny Holland Perkins, Mathew Reichertz, Phil Secord & Wendy Salsman, Virginia Stephen, Mandy Wright, Camille Zakharia, Chris Zimmer, Anonymous Donors
$100 – $249

Annie Abdalla, Abdullah Alfaraj, Valerie Bachynsky, Greg & Susan Bambury, Doug Bamford, Kara Bargmann, James Barmby, Andra Birkerts, Mark Blichert, Kimberly Brenner, Susan Britton, Donald Burry, William Butler, Louise Cerveny, Ray Champlain, Ying-Yueh Chuang, Naomi Clement, Caryn Colman, Louise Anne Comeau, Anonymous Donor, Megan Connors, Catherine Constable, Denise Cormier Mahoney, Pamela Cramond-Malkin, Ava Czapalay, James & Beverly Davies, Thierry Delva, Frances Dorsey, David Drapak, Mary Eaton, Melanie Egan, Kathryn Ellis, Adrian Fish, Graham A. Fowler, Anke Fox, Katherine Frank, Pauline Gardiner Barber and Bruce Barber, Leah Garnett, Christopher Garrison, Becky Gartner, Suzanne Gauthier, Steven Dirk Geense, Meghan Gillan, Leslie Gotfrit, Sharon Gunn, Chantel Gushue, Cynthia Guzner, Katie Hagan, Richard Hines, Elizabeth Holloway, Glen Hougan, Kenneth & Wenda Housego, Yoko Irisawa, Emanuel Jannasch, Katherine Knight & David Craig, Patricia Leader, Ryan Lear, Micah Lexier, Alex Livingston & Heather MacLeod, Evelyn Llyndorah, Frances Long, Denis Longchamps, Jamie & Marnie Loughery, John Lovas, Allan H. MacKay, Margot Mackay, Landon Mackenzie, Meredith MacKinlay, Bruce & Peggy MacKinnon, Laura MacLean, Charlotte Marble & Jeff MacLeod, Rowland C. Marshall, Paul McClure, Sarah McKinnon and Peter Dawes, Erica Mendritzki & Ufuk Gueray, John Merrithew, Jane Milton, Detta Morrison-Phillips, Daiv Mowbray, Richard Mueller, Luke Murphy & Laura Mac Donald, Dr. Jock and Janet Murray, Wilma Needham, Krista Patterson, Renée Penney, Louise & Donald Pentz, Brian Perkins, David Peters & Rhonda Rubinstein, Steven Peters, Ashley Pincock, Vita Plume, Gillian Pullen, Henry Purdy, James Rae, Ann & Jim Read, Colleen Ritchie, J. William Ritchie, Karen H.H. Robinson, Fraser Ross, Ilan Sandler, Daphne Scott, Glenn, Caitlin and Morgan Shaw, Rob Shaw, Laura Siddiqui, Kristin Sinclair, Anisa Skuce, Kye-Yeon Son, Bruce Sparks, CSL, Alice K. Stanfield, Robert Storr, Cheryl Tissington, Martha Townsend, Perry Tymeson, Marthe Vary, Nicholas Wade & Carol Beatty, Ericka Walker, Jayne Wark, Peter Wünsch, Stephanie Yee, Rebecca Young, Carl Youngbluth, Joyce Zemans, Anonymous Donor
Up to $100
Oksana Atwood, Kjerstin Baldwin, Mary Banks, Jordan Baraniecki, Elissa Barnard, Zola Belanger, Ann Bernier, Jack F. Bishop, Nancy Blanchard-MacDonald, Karen Bondarchuk, Curtis Botham, Lorène Bourgeois, Chad Bowie, Meaghan Brierley, Stephen Brookbank, J Brooks, Matthew Brown, Stefanie Bruce, Shelley Burke, Erin Callahan St. John, Wendy L. Cameron, Anonymous Donor, Melanie Colosimo, Denis Connor, Crystal Cox, Diane Daniels, Holly DeWolf, Shannon Donovan, Joseph Elia, Scott Everingham, Kim Farmer, Keith Fillier, Eric Fischl & April Gornik, Joan E. Gallant, Jamie Wilson Goodyear, Owen Gottschalk & Crystal Bona, Donna Green, Leesa Hamilton, Rebecca Hannon, Sian Harris, Linda Hawke, Anna Heywood-Jones, Edith Hicks, Valery Hill, Audrey Hurd, Raluca Iancu, Mark & Navarana Igloliorte, Peggy Issenman, Stephen Jeffrey, Ingrid Jenkner, David Johnson, Duane Jones, Pamela Jones, Bonita Kirby, Alison Knott, Deb Kuzyk, Andrée Lachance, Clare Larson, Selina Latour, Judith Leidl, Alex Levy, Bill & Stella Lord, Preben G. Lordly, Jessica MacDonald, Suzanne MacDonald, Joel MacLeod, Susan MacLeod, Dawn MacNutt & Merle Pratt, Kenna Manos, Maggie Marwah, Meagan Mather, John Mathews, Verity Maxwell, Ramona Mazur, Lara Minja & Matthias Reinicke, Owen Murray, Elliot Mussett, Tony Myers, Peter Nelson, Jyri Niemi, Kate O'Connor, Declan O'Dowd, Aisling O'Flanagan, Frances Ornstein and Frederik Wendt, Holly Peterson, Peter Powning, Nadine Purdy, James Quinn, James Rae, Friederike Rahn, Kelli (Randall) Janson, L Reed, Rachel Reeve, Thea Reid, Catherine Renouf-Thompson, Joelle Renzi, Pamela Ritchie, Violet Rosengarten, Lynne Saintonge & David Taiaroa, Kristi Sangster, the Small Monsters, Ruth Scheuing, Stephan Schulz, Alison Seary, Gregory B. Silver, Greg Sims, Erica Small-Coffee, Alisa Snyder, Calvin C. Taplay, Neal G. Thomas, Robyn Thomas, Monika Urbaniak, Betsy and Howard Van Allen, Karina Van Der Linden, Jeremy Vaughan, Lorna & Carmichael Wallace, Emily Wareham, Sara Washbush, Charlotte Wilson-Hammond, Eliot & Liz Wright, Ke Zhu, YYZ, Anonymous Donor
Tribute Gifts
Anonymous in memory of Walter the Photo Lab
Anonymous in memory of Dr. Sandra Alfoldy
Katherine Anderson in memory of Theodore Saskatche Wan
Louise Cerveny in honour of Raymond and Cecile Michaud
Naomi Clement in honour of Naomi Clement
Elizabeth Currie in memory of Teto Elsiddique
Denis Connor in memory of Dr. Elisabeth C. Connor, a long time Board member and supporter of NSCAD students
Debby Farnell Rudolph and Tom Rudolph in memory of Amy Farnell
Judy Farnell in memory of Edie Silver – My mother and Edie were painting buddies who loved their "Art College" days and told hilarious stories about their life drawing class experiences. Many happy memories for them!
Julia Drew-Watt in memory of Carl Drew – From a grad of the class of 1999; and in memory of my uncle Carl Drew, class of 1968.
Eric Fischl in memory of Bruce W. Ferguson
Pauline Gardiner Barber and Bruce Barber in memory of Gloria Langlands
Meghan Gillan in memory of Dr. Sandra Alfoldy
Marlene Ivey in memory of Seumas Watson
Ingrid Jenkner in memory of Arthur (Mickey) Handy
Kim Knoll in memory of J. Dukelow
Judith Leidl in honour of Isobel Leidl Wilson
Bruce and Peggy MacKinnon in memory of Lou Cable
Aoife Mac Namara in memory of Mark Sark
John Merrithew in honour of the class of 1980
Richard Mueller in memory of Dr. Harold Pearse
Jan Peacock and Steve Higgins in memory of Dr. Sandra Alfoldy
David Peters & Rhonda Rubinstein in memory of Professor Tony Mann
Peter Powning in memory of Peg Powning
Henry Purdy is in memory of Marion Bond who taught painting at the College starting in 1956
Colleen Ritchie in memory of Mary Ritchie
Karen H.H. Robinson in memory of Dr. Sandra Alfoldy
Glenn, Caitlin and Morgan Shaw in honour of Aimee Carroll
Virginia Stephen in memory of Dr. Harold Pearse
Nick Wade in memory of David Lanier
Mandy Wright in memory of Virginia Wright
This list includes all donors who have contributed to the NSCAD Student Emergency Fund since April 14, 2020.