K'jipuktuk/Halifax (April 29, 2020) – NSCAD University's Institute for the Study of Canadian Slavery ('The Institute') today issued calls for applications from artists-in-residence and graduate student fellows. The successful candidates will work with the Institute to conceptualize and produce work that supports its vision and mandate.
As a dynamic, innovative hub that supports research on the art, visual cultures, and histories of Canadian Slavery and its legacies, the Institute is the first such research establishment in the nation and only one of a handful in the world that focus on Transatlantic Slavery. It is currently being developed at NSCAD through funding from the Canadian Foundation for Innovation and the Nova Scotia Department of Communities, Culture and Heritage.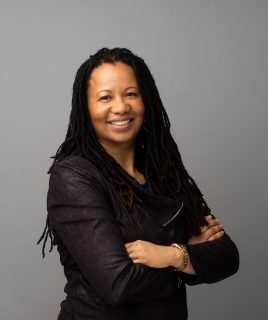 "The sad reality is many Canadians don't realize that slavery took place here on our soil," says the Institute's founding director Dr. Charmaine A. Nelson, who joined NSCAD in 2020 as Tier 1 Canada Research Chair in Transatlantic Black Diasporic Art and Community Engagement awarded through the tri-agency initiative of the Social Sciences and Humanities Research Council (SSHRC), the Natural Science and Engineering Research Council (NSERC) and the Canadian Institutes of Health Research (CIHR).
"Being able to welcome artists-in-residence and graduate student fellows is a great start to empowering creators and scholars to explore Canadian Slavery by providing support for their research and a diverse range of artistic, cultural, and scholarly outcomes," says Dr. Nelson.
Nova Scotia Communities, Culture and Heritage provided funding to the Institute in 2020 to help establish its infrastructure, and the Office of African Nova Scotian Affairs recently approved a $20,000 grant for the Institute to fund artists-in-residence who will begin creating works of art relating to the research in fall 2021.
"Enslaved Black people played a fundamental role in building Nova Scotia, yet their place in history has long been overlooked," said the Hon. Tony Ince, Minister of African Nova Scotian Affairs and the Office of Equity and Anti-Racism Initiatives. "Our government recently passed legislation to recognize August 1 as Emancipation Day in Nova Scotia, marking the anniversary of the abolition of slavery in the British empire. The groundbreaking Institute at NSCAD is another important step in educating Nova Scotians and Canadians on the history of slavery in this country, and my office is proud to support this project."
In addition to the Province of Nova Scotia's financial support, dozens of NSCAD's extended community members have donated generously to help get the Institute off the ground and bring it to life. Their support will fund fellowships that will have a major impact on our country and influence the national conversation that Canadians are having about racism and social justice – the legacy of slavery.
"We are very grateful for the support from Nova Scotia's Office of African Nova Scotian Affairs and Department of Communities, Culture, and Heritage that will give the Institute's mandate critical momentum right out of the gate," said NSCAD Interim President Sarah McKinnon, Phd. "We sincerely appreciate the province's timely funding of our artists-in-residence program for the Institute. On behalf of everyone at NSCAD, I also extend a heartfelt thank you to everyone in our community who quickly and generously helped fund one of the most important undertakings happening at universities today."
More information on the appeal to support the Institute's mandate is available at https://nscad.ca/connect/give/dr-nelson-institute-appeal.
To learn more about the Institute and how to apply for artists-in-residence or research scholarships, please visit http://www.nscad.ca/the-institute.