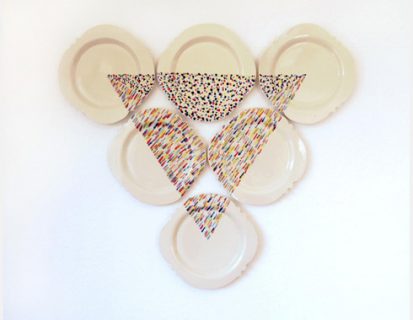 As this year's 10 Starfish finalists get ready for this year's Gala, past winners look back on their own Starfish experience.
Established in 2010 by property developer and art enthusiast Lou Reznick and NSCAD University, the awards recognize and promote exceptional students across the 10 visual arts disciplines at the university. The Starfish Student Art Awards provide young artists with vital visibility and experience as they embark on their careers.
The winning student receives a $5,000 purchase prize and their artwork is added to the NSCAD collection. The remaining nine finalists receive a prize of $1,000 each.
The sixth annual Starfish Gala, presented by Starfish Properties is set to take place Wednesday, April 29, 7 pm at NSCAD's Port Campus. (For tickets or more information on the 2015 Starfish Student Art Awards, visit http://ow.ly/KKNg)
Past winners include Amélie Proulx, Rob P. Blair, José Andrés Mora, Torrance Beamish and Beck Gilmer-Osbourne. Catching up with several past recipients, they shared their thoughts on the awards and how it has impacted their directions and current work.
Inaugural Starfish winner Amélie Proulx (MFA 2010) is developing several bodies of work where she continues to explore "the perpetual slippage of meanings in language and in natural phenomena," a theme she explored in her Starfish Award-winning kinetic sculpture titled Ebauche d'un nuage de pluie (Sketch of a Rain Cloud). She was also the 2013 winner of the RBC Emerging Artist People's Choice Award. 
Describing Starfish as "a great opportunity" inaugural winner Amélie wrote via email "I was really impressed by the number of people attending the event. The award ceremony allowed me to present my work to a broader audience and receive feedback from a lot of different people with a wide range of backgrounds."
Last year's winner Beck Gilmer-Osborne shares Amélie's sentiment. The Starfish Student Art Awards became a platform to discuss social issues, introducing the topics of "non-binary trans" and "transition narratives" to viewers outside the transgender community.
Via email from Toronto, Beck said, "I submitted TUCK to the Starfish Awards because it is a challenging and overtly personal piece. I wanted my work to be seen by a non-queer and transgender audience. It is very important to me that my work is seen by those within and beyond my communities in order to deconstruct what we think we know about being transgender."
Beck is currently making "durational performance work" and volunteering as a facilitator in the Teach program (Teens Educating and Confronting Homophobia) with Planned Parenthood.
"Winning Starfish has definitely given me more confidence in my practice, and hope that my work is being seen and means something to non-transgender viewers (as well as fellow transgender folks)."
Presenting work in the awards gives students a voice and a taste of what it's like to exhibit work outside of the Anna Leonowens Gallery. There's a sense of validation and support from winning the award that pushes students to continue and challenge their work.
"I'm still making films, much different than the ones from that time," said Rob P. Blair, 2011 Starfish Winner.
"I was never comfortable with the work I presented at the Starfish, but for a fleeting instant I felt something like confidence in the work, which is usually in short supply for most people," said Rob.
Rob won for his film The Avenues, which examines the despair and frustration, the hope and pride in achievement as it is worked out by a neighborhood.
Currently living in Toronto, 2012 Starfish winner José Andrés Mora is exploring ideas that differ from his 2012 Starfish Student Art Award-winning video. For Interlocution, he interviewed his friends and then dubbed their voices with his own.
"It was very encouraging to see my video work so well received," he said. "Winning the award allowed me to carry on doing that work. As a recent grad it's harder to get funding. The award gave me seed money for getting equipment that I'm still using today."
This year's Starfish Student Art Award Finalists are:
Alysse Bowd, MFA 2016 (Ceramics)
Raghed Charabaty, BFA 2016 (Film)
Aurelie Guillaume, BFA 2015 (Jewellery and metalsmithing)
Angela Henderson, MFA 2016 (Intermedia)
Connie Higgs, BFA 2015 (Textiles)
Patricia Hondzel, BFA 2015 (Printmaking)
Hunter Lewis Lake, BFA 2015 (Drawing)
Evan Rensch, MFA 2015 (Photography)
Liz Toohey-Wiese, MFA 2015 (Painting)
Couzyn van Heuvelen, MFA 2015 (Sculpture)