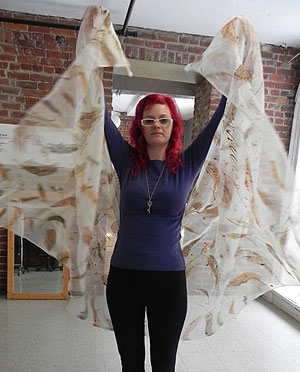 NSCAD's wild and wonderful Wearable Art Show is getting ready to sashay down the catwalk.
The 22nd annual extravaganza of conceptual and wearable fashion is set for Saturday, March 10 in the Multipurpose Room of the Halifax Forum. Doors open at 6:30 p.m. and the show begins at 7:30 p.m.
From its humble beginnings more than two decades ago in the NSCAD student lounge with cafeteria tables for a runway, the Wearable Art Show has transformed into a much-anticipated annual event. This year, more than 15 young designers, from NSCAD's Textile and Fashion Department and Dalhousie's Costume Studies program, will debut their unique and imaginative creations.
"The focus is on wearable art as opposed to traditional fashion, which is what makes it so cool," says Nicole Dnistrianskyj, organizer of this year's show.
The audience can look forward to some spectacular pieces, informs Ms. Dnistrianskyj, including glow-in-the-dark sea creatures and origami paper gowns. As well as organizing, Ms. Dnistrianskyj is a designer herself. She's planning on sending an avian-inspired collection down the runway. That is, as soon as she sews some more feathers on her snowy owl dress.
"It's going to be my project in the next couple of days," she says with a smile.
Tickets for the Wearable Art Show are $20 and will be available at Venus Envy, Seeds Gallery and the NSCAD Art Supply Store. Discounted tickets for students ($15) will only be available at the NSCAD Art Supply Store. Proceeds from show go to the AIDS Coalition of Nova Scotia and the NSCAD Wearable Art Scholarship.