When Halifax-based oceans research software and analytics company eOceans needed help to overcome design challenges with their application platform, Springboard Atlantic's Industry Liaison Office connected eOceans with NSCAD Assistant Professor Michael LeBlanc and Master of Design student Nachiketa Katkar. The NSCAD team helped solve issues with the app by making improvements to the user experience as well as the app's data collection capabilities.
eOceans's goal is to accelerate ocean research through a collaborative platform that lets users create eLogs to track marine life and environmental conditions in real-time. The approach will allow anyone using the app to log marine animal sightings, which requires the app's user interface to be engaging and simple. Enter Nachiketa, whose skills in Adobe XD helped create new prototypes for the interface, fine tune its visual aspects and ensure consistency with the visual language across all platforms.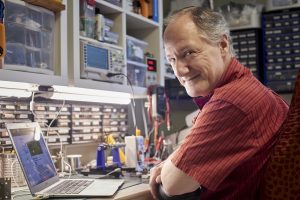 A professor at NSCAD since 1990, Michael LeBlanc finds the mentorship role with students to be particularly rewarding.
"In NSCAD's design programs, we teach students to incorporate a wide range of design practices to develop their own vision and make their own way," said Michael. "Internships, like this one with eOceans, help students to see firsthand what kind of work goes into producing a real product and how to collaborate with clients. Nachiketa rose to the challenge and did fantastic work."
Working with organizations to improve product designs is always rewarding, but it is even more meaningful when the end result supports ocean science and research, which helps improve the future for marine life (and in turn helps our own future). For more information on eOceans, visit eoceans.app
For more information on NSCAD University's design programs, visit the Bachelor of Interdisciplinary Design and Master of Design webpages under the future students menu.