Kim Paquet (BFA 2020), Jewellery Design and Metalsmithing
Beyond the appearances, 2019. Grout, Concrete, steel, silver, rope, rough black diamond
Ring: 4.5 x 4 x 5.5 cm, Brooch: 13 x 6 x 2 cm, Necklace: 47 x 14 x 4 cm
To the extent that addicts reveal themselves as complex and mysterious beings, my jewellery reveals something about the interaction between self-destruction, freedom desire and the complexity of this relationship. My work uses architectural elements to illustrate the geographical contrast of the makeshift shelters of homeless addicts and skyscrapers in big cities while juxtaposing the common material of concrete and steel contrasting with powerful colors of street art. Damaged but solid, my work creates a feeling of instability, isolation and detachment. Far from attempting any kind of reconciliation, my jewelry evokes the everyday violence that addicts face as they struggle to hold on to their place in society.
Scars can't be erased but the pain of the past must be revisited, and a new way forward can be found… a notion which guides my process in this series. I reflect on the complex feelings and memories of my experience working on the street with drugs addicts, where I learned the importance of mutual trust in the moments when everything feels uncertain. Expressed in my intuitively created concrete and paint works, is my understanding of the importance of living in the present, accepting one's mistakes and moving forward– a process, which is equally as important as the end result.
Juror Laura Ritchie, Director/Curator of the MSVU Art Gallery: "This room is filled with so much promise … when I got to see all of the work in person for the first time I was elated. This is a remarkable array of work that proves why NSCAD continues to stand out internationally. We had a very difficult task … eventually we were town between two artists. With the consultation of the organizers we were able to create an Honorable mention category as a way to recognize the 10th anniversary of this award. The 10th anniversary Honorable mention goes to an artist who shows mastery in their media. This artist took a western method of story-telling and used it as a tool to tell her story and that of her community across cultures. The Honorable mention and $1,500 prize goes to Megan Kyak-Monteith."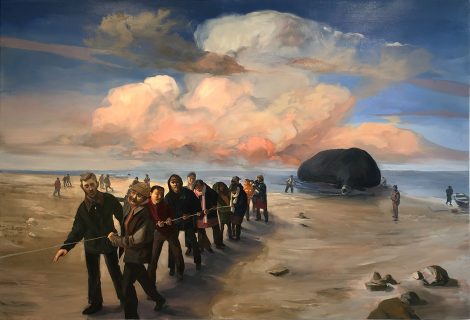 Eight other outstanding finalists were recognized and awarded $1000 each for their fine works in nine other disciplines. Congratulations also go to:
Emma Allain (MFA 2019), Expanded Media: This will not be an unfamiliar landscape, 2018. Hand-bound artist's book and silkscreen prints on rag.
Tyler Anderson (BFA 2019), Drawing: Curl Towards Push Against, 2019. Paper and fabric.
Drayden Decosta (MFA 2020), Film: Rooms of the House, 2018. Film/Video.
Alex Linfield (MFA 2018), Printmaking: The Only Job That Starts At The Top Is Digging A Hole, 2018. Silkscreen on plexiglass, digital pigment print, acrylic on slip cast ceramic.
Liv Mansveld (BFA 2019), Textiles/Fashion: Love Languages, 2018. Woven Textiles, Constructed Garments; A collection of 3 pieces.
Luke Mohan (BFA 2019), Ceramics: Closet, 2018. Ceramics.
Mark Sark (BFA 2020), Sculpture: Sculpture #5, 2018. Sculpture.
Wiebke Schroeder (BA 2018), Photography: Beachwalk, 2018. Photographic image/print.
This is the tenth year for the Starfish Student Art Awards, named for presenting sponsor Starfish Properties. Established by property developer and art collector Louis Reznick and NSCAD University to recognize and promote exceptional students, the awards provide emerging artists with vital visibility as they embark upon their careers.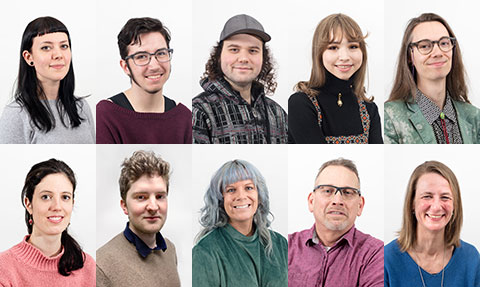 Thank you to the creative businesses supporting the 2019 Starfish Student Art Awards:
Gold Sponsors: Engel & Völkers, Lydon Lynch Architects Ltd., TD Insurance
Silver Sponsors: BMO Nesbitt Burns, Citadel Oral & Facial Surgery, CKG Elevator Ltd., Freehold Commercial Realty, Garrison Brewing Co., Halifax Seaport, McInnes Cooper, Southeast Drywall
Supporters: Bird Mechanical, Patterson Law, Rhyno's Ltd., Spectacle Communications Group
Members of the 2019 Starfish Student Art Awards jury are: Enrique Ferreol, Program Officer at Arts Nova Scotia; Laura Ritchie, Director/Curator of the MSVU Art Gallery; Julie Rosvall, Program Coordinator at Craft Nova Scotia; and Linda Hutchison, Associate Vice President, University Relations, NSCAD University. The Starfish Student Art Awards are coordinated by Melanie Colosimo, Director of NSCAD University's Anna Leonowens Gallery.