The Fine Arts Division is known for its rich history and connection with the Canadian contemporary art scene. Many of our graduates show their work nationally and internationally and receive prestigious grants and awards.
The Fine Arts Division gives students the unique opportunity to specialize in a selected area while also exploring other fine art disciplines. For example, though painting may be your focus, you will still receive extensive training in the media and practices of sculpture, drawing, and printmaking. Continuing to discover new art forms—even after choosing an area of specialization—is the cornerstone of fine arts at NSCAD.
As a Fine Arts student, you will learn how to manipulate a broad range of materials, articulate an awareness of the historical and conceptual roots of your work, take creative risks, and overcome artistic challenges. These are necessary skills for any successful artist to possess. And they are also equally valuable for entrepreneurs, curators, gallery administrators, scholars, and writers—careers many students choose to pursue after graduation.
The Fine Arts Division is known for it's powerful history and connection with the Canadian contemporary art scene. Many of our graduates show their work nationally and internationally and receive prestigious grants and awards.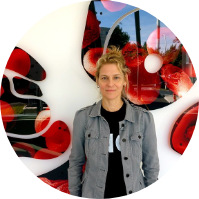 KIM MORGAN
Kim Morgan is a sculptor/installation artist whose practice incorporates techniques, materials, and technologies from a wide range of disciplines. She holds a BA from McGill University, a BFA from the School of Visual Arts, and an MFA from the University of Regina. Her main theoretical interests are spatial relationships and phenomenology. Morgan's recent work involves the creation of interdisciplinary public art projects in collaboration with engineers and scientists, exploring the impact of technology on people's perceptions of time and space, and the shifting boundaries between the private and the public.
Email Kim.
ERICKA WALKER
Ericka Walker holds a BSc from the University of Wisconsin-Madison and an MFA from the University of Tennessee, Knoxville. Her current body of work is driven by her research into lithographic propaganda posters. Walker's past work has been included in national and international exhibitions and exchanges, most recently the 2011 Sanbao International Biennial Printmaking Exhibition in Jingdezhen, China; Ink, Paper, Process: An Exhibition of Contemporary Prints in America at the Dishman Art Museum in Beaumont, Texas; and the 2010 Pacific States Biennial Print Exhibition at the University of Hawai'i. 
MARK BOVEY
Mark Bovey holds a BFA and a BEd from Queen's University and an MVA, Printmaking from the University of Alberta. His work examines the world through the lens of printed histories and through the many forms of expression the medium offers, from the directness of a carved relief block to the refined output of the computer matrix. Bovey has received awards and grants from the Nova Scotia Arts Council, the Windsor Printmakers Forum, and the Kochi International Triennial Print Exhibition. His work can be found in public collections both nationally and internationally.
Email Mark.
ALEX LIVINGSTON
Alex Livingston holds a BFA from NSCAD University and an MA in Fine Art from the Chelsea College of Art and Design. He has exhibited his paintings in numerous solo and group exhibitions in public and commercial galleries across Canada. He has also participated in exhibitions in England, South Korea, and the United States. Livingston's work can be found in private, corporate, and public collections.
Email Alex.
ERICA MENDRITZKI
Erica Mendritzki is an interdisciplinary artist with a practice grounded in painting and drawing.  Thematically, her current work deals with embarrassment, bodily strangeness, communication problems, and power.  She holds a BFA from Concordia University and an MFA from the University of Guelph.  Her work has been exhibited nationally and internationally, most recently at Platforms Project in Athens, Greece, at G Gallery in Toronto, and at La Maison des artistes visuels francophones in Winnipeg.  She is a member of the Board of Directors of Border Crossings magazine.
Email Erica.
MATTHEW REICHERTZ
Mathew Reichertz is an Associate Professor. He has had numerous exhibitions nationally and his work can be found in a number of institutional collections including the Nova Scotia Art Bank, the Art Gallery of Nova Scotia and the Dalhousie Art Gallery. Reichertz's interests are in narrative and contemporary painting.
Email Mathew.
DAVID B. SMITH
David B. Smith, SMVisS Massachusetts Institute of Technology '97 and BFA Nova Scotia College of Art and Design '92, has pursued a diverse career as both a sculptural practitioner and researcher. Beginning with a creative practice that was largely comprised of sculptural installations centered on issues of commemoration, he later shifted his focus to research in the creative process itself. To this end, Smith is currently the Program Director and Principal Investigator of a longitudinal cohort study in Western Cape, South Africa, examining the efficacy of creative thinking applied to academic disciplines outside of the arts – Art in Schools Initiative, begun in 2011. Professor Smith teaches core Sculpture courses (typically Introductory and Advanced Sculpture), selected material and methods-based sculptural workshops, and graduate level courses in Art Education.
Email David.